One of the most common hurdles faced by many small businesses is being visible online and driving people to their website. From start-ups to established businesses getting online for the first time, both e-commerce and general information sites, making potential customers aware they're online can be a challenge. How can you get people to visit your website? Here are eleven ideas to get you started.
1. Optimise Your Site For a Good User Experience
Before actively driving traffic to your website it's good practice to make sure it's optimised for both speed and different devices. It would be frustrating to put in the hard work getting customers to your site for them to bounce because they have to zoom on their mobile to read your content or endure a long loading time. By optimising your website you'll be improving the customer journey and encouraging them to spend longer online. Use Google's free Mobile-Friendly Test to enter your domain name and get a grade for how well your website works on mobile. Google also offer a tool to test your site's speed, PageSpeed Insights; this grades your website and shows you the areas you need to improve (if some of the suggestions seem too technical, pass them over to your web developer or hosting provider – they'll be able to advise you further). Your website's mobile optimisation and loading speed also affects how well you rank in search engines – more on SEO below.
Test your website using Google's Mobile-Friendly Test
Test your website using Google's PageSpeed Insights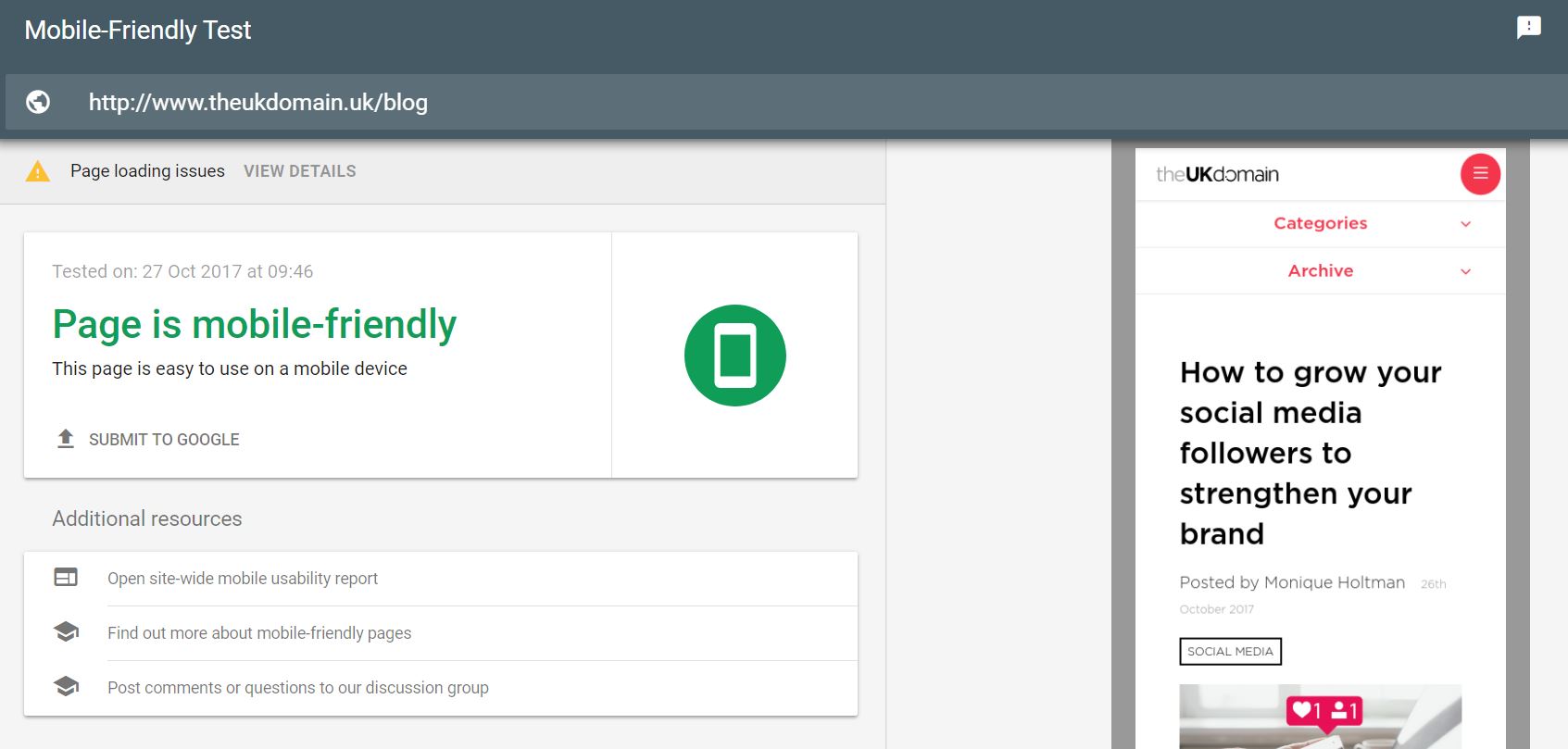 2. Create a Content Hub
Popular in 2017 predictions and trends, content is key! Create a hub of content on your website to drive and engage traffic by posting new blog posts or larger content pieces (e.g. FAQs or help guides) that appeal to a wide audience frequently (aim for one post a week as a recommendation, more if you can find the resources). Remember to optimise each post through keyword research to improve where your content sits on search engine results and include social sharing buttons to encourage readers to share your content. It's definitely worth spending time to consider the title of your blogs: are they compelling enough to encourage customers to click through to your website to read the full post?
Brainstorm 5 content ideas
3. Spend Some Time on SEO
Websites listed on the first page of Google receive 91.5% of traffic while only 4.8% of traffic goes to the second page; the higher your site appears in a search engine results listing the more visible it is to potential customers. How can you improve your search ranking? Keywords, content creation and link-building are the key factors – learn more in our introduction to link-building.
Use Google's Keyword Tool to research keywords relevant to your business and industry
4. Share on Social
Social media can be a valuable tool to increase traffic to your website by allowing you to send an interested and engaged audience straight to your site. You can explore many opportunities to utilise your social channels from sharing blog posts, promoting products and services, to showcasing a link to your website in a prominent location. Set aside some of your schedule to get active on social; engage with relevant industry conversations and talk to your potential customers.
Ensure your social bios include a link to your website
5. Put in a Guest Appearance
If you enjoy writing and sharing your expertise investigate guest blogging opportunities, where you can write content for other relevant organisations and blogs; by including a link to your website you can grab traffic from this source. To explore these opportunities search for websites and blogs that are open to contributions by searching for terms such as ["write for us": (industry)] e.g. ["write for us" personal finance].
Search for websites you could approach for contribution opportunities
6. Advertise Online
There are a whole host of online advertising formats that can drive traffic to your website, from paid search to social media adverts. PPC (pay-per-click) advertising on Google displays your website at the top of the search results pages by bidding for relevant keywords, while social media advertising displays graphics and links to highly targeted audiences to drive traffic to your site.
Investigate which advertising platforms are most suitable (start with Google AdWords and Facebook advertising)

7. Use Google Analytics
While not a source of traffic in itself, Google Analytics can provide you with a wealth of useful data about your website, such as the sources of your website traffic. By measuring and monitoring the results of the platforms and strategies you use to drive traffic to your site you can see what is working for your audience and invest more time, energy and resources to that campaign. You can also gain insight into popular webpages, visitor demographics and the highest performing content pieces to inform your future strategies.
Install Google Analytics on your website
8. Start Emailing Your Customers
A customer database is a valuable asset – it's a list of engaged customers who have displayed interest in your business so why not create email campaigns that send useful and interesting content straight to their inbox? Just remember to include links to your website to drive traffic. It can be daunting if you need to start building an email list from scratch but even simple additions such as a newsletter sign up on your website, some social media advertising or collecting emails offline can be a great place to start.
Start building an email database
9. Don't Neglect Offline Activities
Are you promoting your online presence offline? It's an easy area to slip to the back of your mind as you focus on your online activity but promoting your website via offline techniques can not only increase your website traffic but raise general brand awareness. By making sure your website address is listed on printed promotional material – such as leaflets, brochures and posters – and advertising your site in your physical store (if applicable), you can inform your both new and loyal customers you are online.
List where your website address could be included
10. Show You're Trustworthy
Visitors who can see a website is trustworthy are more likely to spend longer on the site, return and visit again and recommend it to others. Are you showing your site can be trusted? Think about displaying your privacy policy, full contact information and any privacy seals and logos to verify your credentials to visitors. If you're hosting an e-commerce website, acquire an SSL certificate and use a secure connection.
Are you showing all your privacy and guarantee credentials on your website?
11. Feel Generous
Do you have the capability to offer a free product or service? By offering a giveaway and creating a buzz, via advertising and offline promotion, you can attract traffic and drive it towards your website. Once you know the nature of your offer, promote it on your blog, social media, and offline (where possible) – you might be surprised by the response you get.
What can you offer as a freebie?
Promote a special offer
Peter was once the Head of Content at Nominet and is now a freelance copywriter and SEO & content strategy consultant. Outside of marketing, he writes about literature on Sublime Horror.
Read full profile