Google Shopping has been known by a number of names since its introduction in 2002. It was launched as Froogle, a service which used Google's web crawler to index products from retailers and present them separately from its normal web results.
It then became Google Product Search until 2012. Until this point the retail listings were organic results, augmented with paid AdWords placements.
However, this model changed with the introduction of Google Shopping in 2012, and now the listings are made up of paid results, with placement of listings determined by a mixture of relevance to the search term and bid amounts.
In this article, I'll look at the importance of Google Shopping, how to list your products and make listings competitive, and whether it's worth the effort for smaller retailers to pay to play here.
Google Shopping has been controversial at times, being the subject of an EU antitrust fine for prioritising its own results in searches, while the introduction of the paid model has been criticised for the advantages it may afford to larger retailers.
For product search, Google has been squeezed by Amazon over the past few years. Indeed, 54% of all product searches began on Amazon in Q2 2018. Product searches have declined on Google slightly over the past few years, which is one of the reasons for its promotion of Google Shopping.
For retailers though, Google still has plenty of reach. A Kenshoo study found that 85% of respondents use Google for product ideas and information before buying.
It's likely that Google and Amazon both figure heavily in product search, and retailers are wise to have a presence on both sites where possible.
This is where Google Shopping has a part to play. Shopping ads have recently become the most popular search ad format for retailers.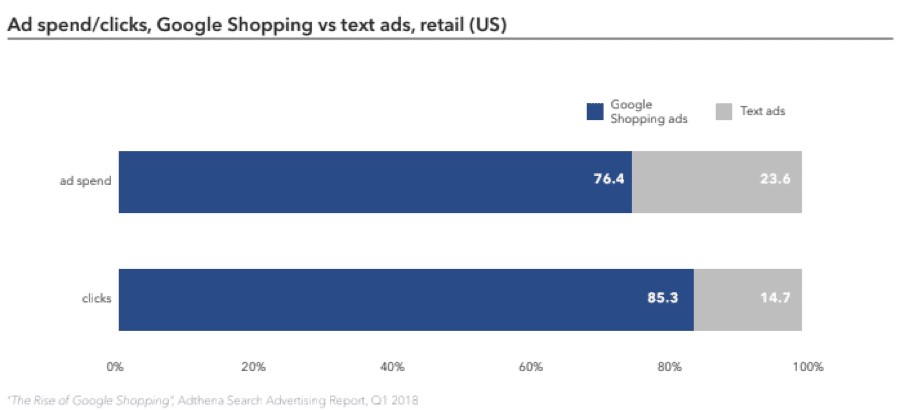 Shopping ads now drive 76.4% of retail search ad spend, and generate 85.3% of all clicks on either Google Ads or Google Shopping ads. That's a great spend to click ratio for retailers.
Looking at Google Shopping Ads in action, it's easy to see the appeal of the format. They occupy a prominent slot in search results, sometimes at the top, sometimes on the right-hand side. Product images also allow searchers to see the products there and then, which can be much more persuasive than standard PPC ads.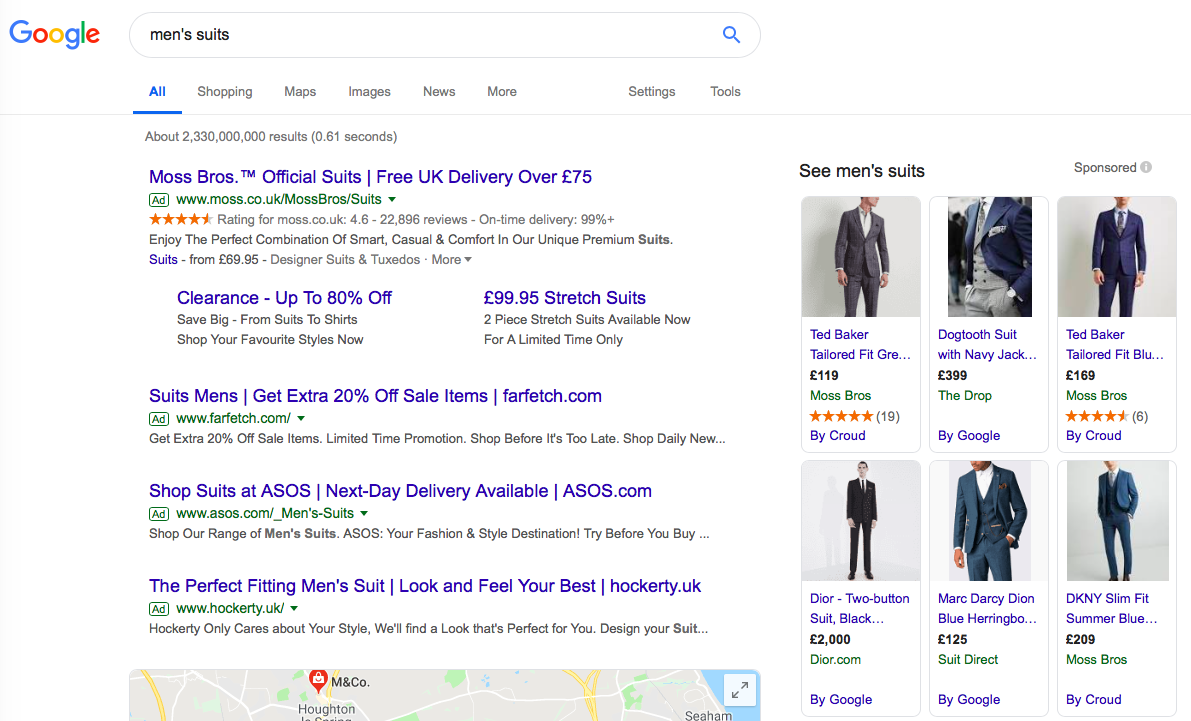 The pros and cons of Google Shopping for smaller businesses
There are several benefits to Google Shopping campaigns…
Google's size and reach.
Amazon may be encroaching in terms of product search, but Google remains the most popular search engine in the world, used by 75% of web users worldwide.
The chance to get your products in front of this audience in a prominent position is very attractive to retailers.
The look and positioning of ads.
Google Shopping ads take up prominent positions in the search results, with preview images to catch the eye of searchers. On mobile, they're often the most visible search results.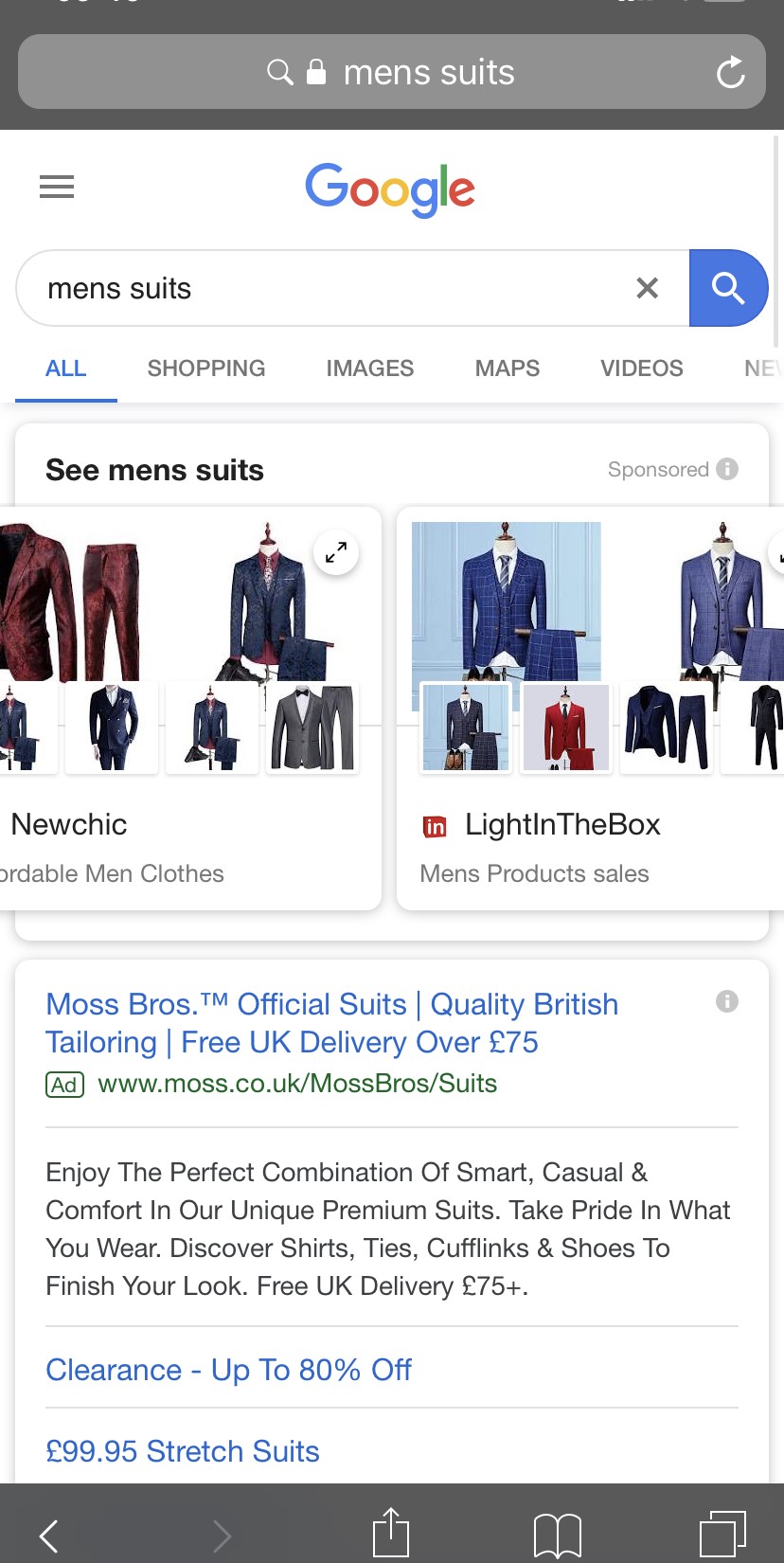 Organic results are becoming less and less visible.
One continuing trend from Google over the last few years has been to push standard organic results further and further down the page. For a search like the one above for men's suits, the user has to scroll more than halfway down the page for organic results. Shopping ads offer a way to achieve greater visibility.
Shopping ads are more effective than text ads.
The ad spend to click ratio makes Google Shopping ads more attractive than text ads. If retailers are spending on paid search, this budget may be better spent on Shopping ads.
Potential drawbacks include:  
Competition.
For some product categories, it's possible that Google Shopping will not reward the effort spent on it. Some products are so dominated by big name retailers that it's hard for small businesses to achieve visibility.
Effort and resources required.
Google Shopping isn't as simple as PPC, and to achieve the best results and performance, a certain amount of time and expertise is required. For smaller retailers, the time requires (or the budget to use agencies or consultants) may make this less efficient.
Costs of competing.
Achieving higher positions, and therefore better click through rates against opponents with bigger ad budgets is a challenge.
How to get your products listed on Google Shopping
To get started on Google Shopping, you'll need to set up accounts with two Google services: Merchant Center and Google Ads. It's also important to have Google Analytics to manage and track performance if you haven't linked it to your site already.
Merchant Center is where your product feed sits, a place where you can upload your product range and key data such as images and prices. Google Ads is the place to manage Shopping campaigns.
Merchant Center feeds can be set up manually, or there are various apps and extensions which do some of the work for you.
Then it's a case of verifying your site and confirming it for use with Merchant Center (you'll need access to your domain registrar for this).
Then you need to set up tax and delivery settings, before linking your Merchant Center account to Google Ads.
Google has a useful guide to setting up an Ads account, if you don't already have one. Once you have, and it's linked to Merchant Center, then campaigns can be created and managed through the Campaigns tab, under which you'll see the Shopping option. 
Once these are linked, you can set up geotargeting, bids and budgets, and link Google Ads to analytics for campaign monitoring.
How small retailers can get the best results from Google Shopping
While there may be challenges, using Google Shopping as a smaller retailer can be worth it. It can be cost-effective and, since you're only paying when someone clicks through to your site, it can be worth investing some budget here.
Beyond merely setting up Merchant Center accounts and creating campaigns, the key to performance lies in the details. Here are some strategies for retailers to try on a smaller budget…
Smart segmentation of Shopping campaigns
Segmentation can enable you to create more cost-effective terms by avoiding spending too much on generic product searches and concentrating on more specific product terms.
These specific terms indicate a stronger intent to purchase, so it can pay, as a smaller retailer to focus your budget here where it can have most effect.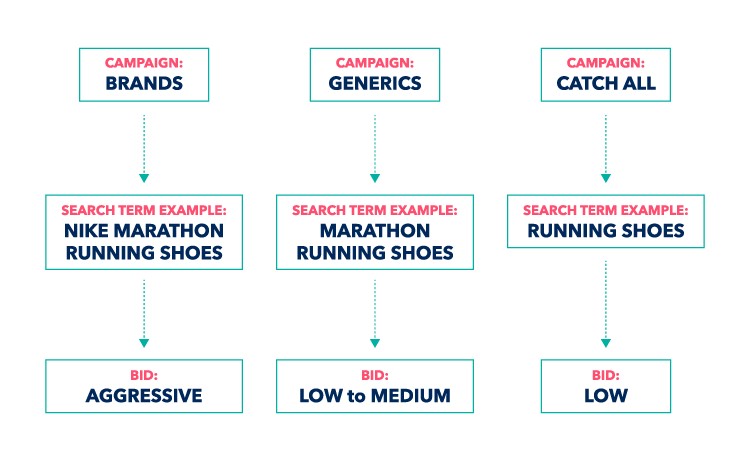 Find unique keywords and language in your product titles
The key to success on a budget is to find niches where you can attract searches for your products without paying over the top for traffic. Study your competition to see what they're doing. 
Using unique and natural language titles is one way to do this. They can reflect the way people search more accurately, and avoid you getting into a bidding war with bigger retailers using generic product descriptions.
Even appending key details to product titles, such as size and gender can make a difference, as this study shows.
Geotargeting
Targeting the correct locations can save budget, by only targeting customers in the areas you can deliver to. This is a sensible first step to make the most of your campaign budget.
It can also be used to target the areas where more people are likely to buy your products. This could be to do with factors like climate, or luxury retailers, for example, could target higher income areas where ads are more likely to be successful.
Keep a tight control of bids
Working on a budget, it's important to have a tight control over bids, so you're not spending too much. To a certain extent, bid increases can lead to higher conversions, but they can mean that Google is showing your ads for more generic searches which are less likely to covert.
The best approach is to increase bids carefully and test the impact on conversions.
Consider tweaking prices rather than bids
Instead of increasing bids to drive more sales, the same effect can be gained by lowering prices. Some studies suggest that Google Shopping algorithm favours lower prices, so this can increase your visibility.
Find your niche
Unique products which aren't sold on Amazon, and by hundreds of other online retailers have a better chance of achieving high visibility on Google Shopping.
Encourage and upload product reviews
Product reviews in Google Shopping results can help your products to stand out on results pages, and can help to convert shoppers.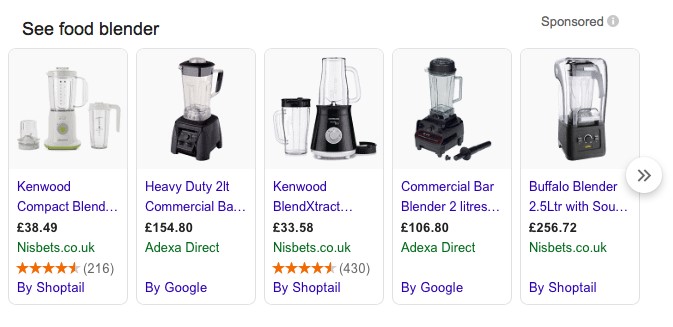 Reviews are aggregated using data from the merchant's own sites and third party review sites. As Google explains here, retailers need a minimum of 50 reviews across all products to upload their own review feeds, but third party aggregators and Google Customer Reviews are other options.
In summary
There's lots to think about when considering Google Shopping ads. It's true that it can be hard for smaller retailers, and it does require an investment in time and effort to set up and optimise Google Shopping campaigns.
It may also be the case that, for some product areas, the amount of competition may make it very difficult for smaller retailers to achieve results.
However, there are ways for smaller retailers to prosper using Google Shopping, and it has the potential to get your products and services in front of the millions using Google every day for product searches.
It doesn't have to mean a massive investment up front. Retailers can start small and refine and grow their presence over time. The key is to find areas where you can offer something different and make your ads stand out from the rest.
Graham Charlton is Editor in Chief at behavioural marketing company SaleCycle. He has previously worked for Econsultancy and Search Engine Watch, and has written several best practice guides on e-commerce and digital marketing. Follow him on Twitter
Read full profile