Owned, earned and paid media are the three pillars of a successful content marketing strategy.
The first focuses on interacting with target audiences via communication channels owned by the company. The second is earned publicity generated by building relationships and providing great content, and the third involves paying to promote content.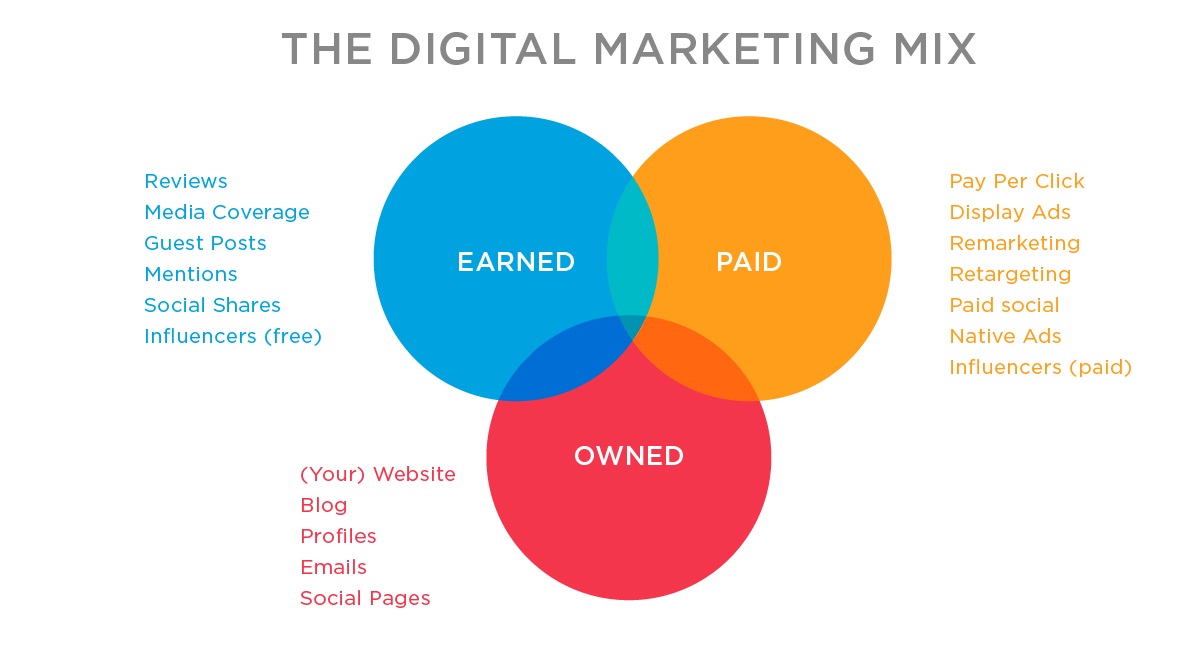 Below I've highlighted the main differences between the three channels and provided some top tips on how you can use each of them to improve brand awareness and the conversations you're having with your audience.
Owned media
Owned media consists of the channels owned or controlled by your brand. This includes your website, mobile site, blog page, videos, podcasts and social media platforms. Its role is to build credibility and long-term relationships with your audience.
Benefits of owned media
Cost-effective
Longevity
Complete control
Helps you to create niche audiences
Challenges of owned media
It takes time to build your audience
Success with owned media is entirely dependent on having a comprehensive strategy in place
Owned media top tips
Create a strategy – which channels are you going to use, how often are you going to post and how are you going to promote new content? Ensure you have a purpose for each piece of content. Are you trying to get new leads or increase brand awareness for example? Here are some great tips for creating a powerful content marketing strategy.
Remember to write for both search engines and people. Head over to 'How to write content that both Google and your audience will love' for more information on this.
Use analytics to gauge interest in the topics you're promoting as well as measure the success of each piece of content. Your social media pages will provide you with data such as likes, comments, shares and post reach.
Platforms such as Google Analytics allow you to delve deeper. You can find out how long people spend reading your blog, how many people are viewing each piece of content and ultimately, what's driving your readers to complete a call to action?  
Paid media
Paying to promote your content is a great way to increase views and generate exposure. Some examples of how you can do this include Pay Per Click (PPC), social media advertising, display ads, sponsorship and paying influencers to share information about your brand.
Paid media is a highly effective way of driving earned media because the more people who know about you, the more likely they are to mention you to others. It can also help to direct traffic to owned media properties such as your website or blog page.
Benefits of paid media
Immediate results
It gets your content seen by audiences you wouldn't normally reach
You can target large audiences in a very short space of time
It can increase traffic to your website and more importantly, conversions
Challenges of paid media
It's more expensive than other marketing methods and there are no guarantees how successful it will be
If you run out of budget, your campaigns end
It's not as credible as owned and earned media
Paid media top tips
Supplementing your organic social media efforts with paid ads can really boost your following and engagement rates. It can also improve brand awareness and transition new customers into the sales funnel. Here, Social Media Examiner shares six tips for writing social media ad copy that converts.
Social media retargeting is a powerful way to remind customers who've already expressed an interest in your brand that you exist. In the consideration phase, being reintroduced to your product can help push them to make a purchase. You can find out more about social media retargeting here.
Some top tips for creating successful Google (PPC) ads include:
Conduct keyword research
Focus on the locations you want to target (if you can only service the local area, there's no point targeting the whole of the UK)
Create different ads and ad groups so you can monitor the performance of each
Create extensions including phone numbers and links to your website
Set limits for which hours of the day your ads will show
Whether you're advertising on social media or using content distribution platforms to boost visibility, creating custom landing pages should be a priority if your goal is to increase conversions. This allows visitors to focus on the message you're sharing with them without the distraction of having to navigate your website to find the information they need.
Earned media
Earned media is user-generated content whereby customers become the channel. This can be someone's social media post, a review, or them tagging you in a photo of them using your product or service.
It's essentially online word of mouth. It can include anything from shares, mentions and re-posts to reviews, recommendations and content picked up by third-party sites.
Benefits of earned media
Highly credible
Consumers actively search for it when making a buying decision
Plays a key role in sales
Incites trust
Boosts your reputation
Genuine and authentic
Challenges of earned media
It's difficult to crack and can take a long time to occur
You have no control
Consumers can leave negative comments
Earned media top tips
Listen and respond — earned media is often the result of well executed and coordinated owned and paid media.
Leave positive LinkedIn endorsements for those you've collaborated with on projects and recommend or leave reviews on products/services you've used. People are more likely to return the favour if you've helped them.
When someone has purchased a product or used your service, make it standard practice to send out a follow-up email asking them to leave a review. Here are some top tips on how to encourage and showcase online reviews.
One of the most effective driving forces of earned media is a combined result of strong organic rankings and content distribution so a good SEO strategy is essential. HubSpot has put together some great tips for creating an SEO strategy here.
Although owned, earned and paid media are used in different ways, they're all interconnected and work together to contribute to a complete marketing strategy. What's more, the ultimate goal of all three channels is the same – to generate awareness and engage users.
Earned media can for example help people to find your owned media channels. Paid media can boost your owned media which can lead to earned media because more people have heard of and used your brand.
By incorporating all three elements, you can be rest assured that you're doing everything you can to create a well-balanced marketing mix that's going to get you the results you desire.
After completing her degree in Journalism, Monique began her career at a digital marketing agency. It was here she discovered a passion for online marketing with a particular focus on content creation for the web. Six years ago Monique set up her own copywriting business, Copyworks Group, which specialises in creating content for websites, blogs, newsletters and social media pages.
Read full profile