Too busy running a business to keep up with what's been happening in the world of digital marketing? We've been monitoring the news for you, and today we're taking a look at what you can learn from some of the stories that caught our eye this month.
Prepare for complaints via social media
Gone are the days when customers simply picked up the phone or wrote a letter to complain about a bad experience. Recent research by HSO is a reminder of the need to be ready for complaints on social media – particularly with the busy Christmas gift-giving period coming up. The study found that 36% of consumers would use social media to complain about a product or service.
Even more alarmingly, the research also revealed that making a complaint was the primary reason for engagement on social media for a whopping 61% of respondents – far more than the 27% using it for finding out more about products, or the 23% on the lookout for a good deal. If you're concerned about how to handle social media complaints, have a read of our advice on how to manage your reputation on social media and how to respond to a bad review.
Changes to snippets
Eagle-eyed SEO enthusiasts may have noticed some changes to how featured snippets appear in Google this month. Search Engine Land reported that Google may be testing smaller answer boxes (known as featured snippets) on the search engine results pages. They've become highly sought-after in recent months because they offer the chance to appear in 'position 0' of a given search, with the potential to drive large volumes of organic search traffic.
It looks as though Google has been experimenting with dropping some answer boxes and introducing more 'knowledge panels' for a wider range of search queries. Despite this, Search Engine Land recommends continuing to optimise for featured snippets, as they can still have a positive impact on your search traffic even if the volumes are reduced by this change. Take a look at our 7 steps to optimising your content for Google Answers to find out more.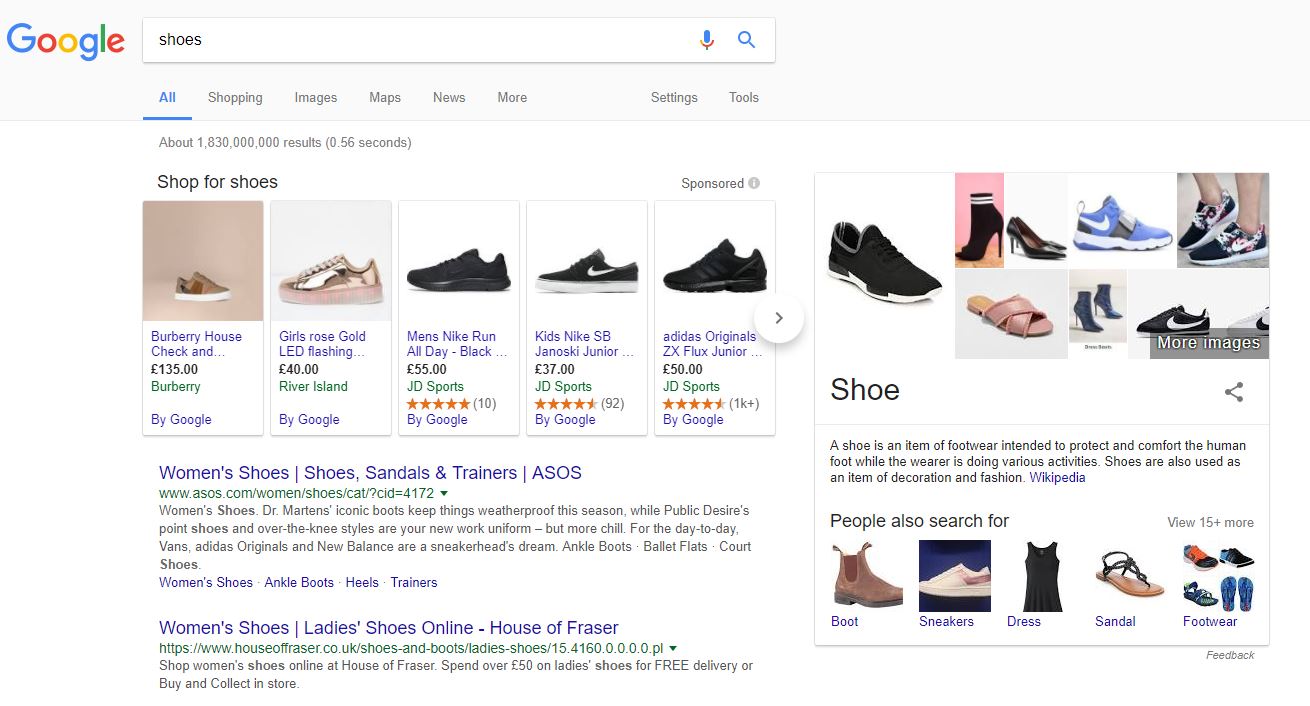 Personalising better than promotion
Spending time personalising your digital adverts may be more effective than offering one-off discounts or promotions, according to research unveiled this month by Harris Interactive (conducted on behalf of Sizmek). The study found that while 40% of those questioned weren't planning on taking part in the Black Friday shopping frenzy, 49% would engage with ads personalised to their favourite brands or products.
That figure jumps to 73% among millennials, 70% of whom would also be more likely to engage with ads targeted to their location. This suggests that simple discounts and offers are no longer enough to tempt consumers, but that you'll reap the rewards if you use data insights to target your adverts more effectively.
Twitter enables 280 characters, but less is still more
Finally, back in September, we mentioned that Twitter was trialling a longer character limit for some accounts. This month the 280-character limit was officially rolled out across all accounts, doubling its famous 140-character limit.
With many brands now taking advantage of being able to say more in a tweet, there's still a strong argument for 'less is more'. That's because although some users doubtless appreciate not having to edit their tweets to fit the stricter character limit, shorter tweets are still easier to read. That's particularly true when scrolling through timelines on a smartphone; it stands to reason that a short tweet will be more eye-catching in a sea of longer ones. Time will tell what effect the change has on engagement metrics.
A collection of articles written collaboratively by members of the UK Domain Team.
Read full profile