At the end of another busy month, we bring you some of the latest stories from the world of digital marketing and explain what they mean for your business.
Stop sending your customers irrelevant comms
It's all very well sending special offers to your customers, but if they're not actually relevant to them, your marketing efforts aren't going to get you very far.
With that in mind, the 2017 Holiday Retail Outlook Report by Conversant found that 65% of consumers are fed up with irrelevant brand communications. It also found that millennials (aged 25-34) are very likely to shop with businesses who send them personalised offers.
Remember, with so many other brands seemingly getting it wrong on this, you're in with a good chance of standing out from the crowd if you send your customer's targeted communications that are personalised to them. Read more about personalising the user journey here.
Users don't recognise Google ads
Are you ignoring Google AdWords as an online marketing channel because you're worried that nobody clicks on ads anymore? You'd be surprised.
New research from Ad-Rank Media suggests that as many as 60% of Brits don't actually recognise a Google ad when they see one. That's despite the fact that Google does comply with advertising regulations stating that ads must be clearly labelled as such (though its ads have admittedly become increasingly similar in appearance to organic search results in recent years).
The takeaway from this is that if you're looking to make your business more visible for search terms that you might be finding it difficult to rank for organically, it's still very much worth getting clued up on Google AdWords as a quick means of getting to the top.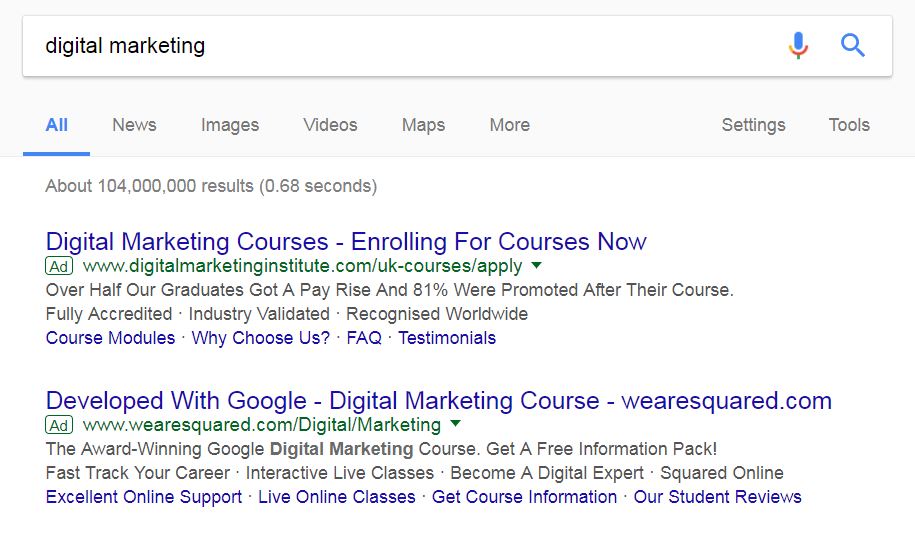 Use social media to get the best leads
If you're trying to decide how best to spend your marketing budget, you might be interested in new research by call tracking provider Mediahawk, which found that 62% of UK SMEs believe that their best leads come from social media. 64% agreed that online marketing brings them the best return on investment, and 55% are planning to increase the amount they spend on social media marketing for 2018.
Interestingly, when it comes to generating high-quality leads, offline marketing such as leaflets and magazine adverts came in second, with 51% saying that this more traditional form of marketing brought in good leads. This suggests that while online marketing – and in particular social media – seems to be most effective at bringing in quality leads, it's still worth investing in some offline marketing as well.
More to say on Twitter
The big story in social media this week has been Twitter's foray into a longer character limit. It's currently trialling a double-length character limit, upping it from its famous 140 characters to 280 for a small group of users.
The social network argues that people need more space "to express themselves", but critics of the move say that it undermines the company's USP and is not a change users themselves are demanding (an edit button and good old-fashioned chronological timelines remain high up on the wishlists of many active users).
Whether or not the change is here to stay remains to be seen, but if it does then it's worth remembering that brevity is still the order of the day. People don't have time to read long posts, so keeping your tweets brief will help ensure they get read. Here are some more tips on how to use Twitter for business.
Zoe works as a Content Marketing Executive at the UK Domain. Previously working in advertising and the sporting industry, Zoe has over four years experience in marketing.
Read full profile