One of the greatest inventions of our time is, of course, the Internet. While we may not be able to imagine life without it, it wasn't until 1991 that the World Wide Web went live to the world.
In that short space of time, the Internet has continued to impress users with its capabilities. From dial-up modems and limited bandwidth to superfast broadband speeds and mobile access from pretty much anywhere in the world, technology has come a long way in less than three decades.
While many great things have come from the invention of the Internet, for business owners, one of the best is webinars. This live, web-based video conference tool allows organisations to connect with viewers and listeners all over the world. Perfect for professional events where you want to deliver presentations to larger audiences, examples of the types of webinars you may host include:
Details of a new product launch
Product demonstrations
Interviews with industry experts about topics your audience will find interesting and relevant. Enlisting the help of a third party can also bring in new listeners who may never have heard of your product or service until now
Q&A sessions – this allows you to show off your knowledge and show customers that you care about helping them
Case studies – ask clients if they're happy to share their story and give out any tips or advice they have to offer
The template below gives you an idea of the type of webinar you might host if you're an SEO agency. You're enticing people in because they're going to be intrigued to find out what the four pages are, you're offering value by telling them how to adapt these pages to increase conversions and by saying there are only 250 spaces available, you're encouraging people to act quickly.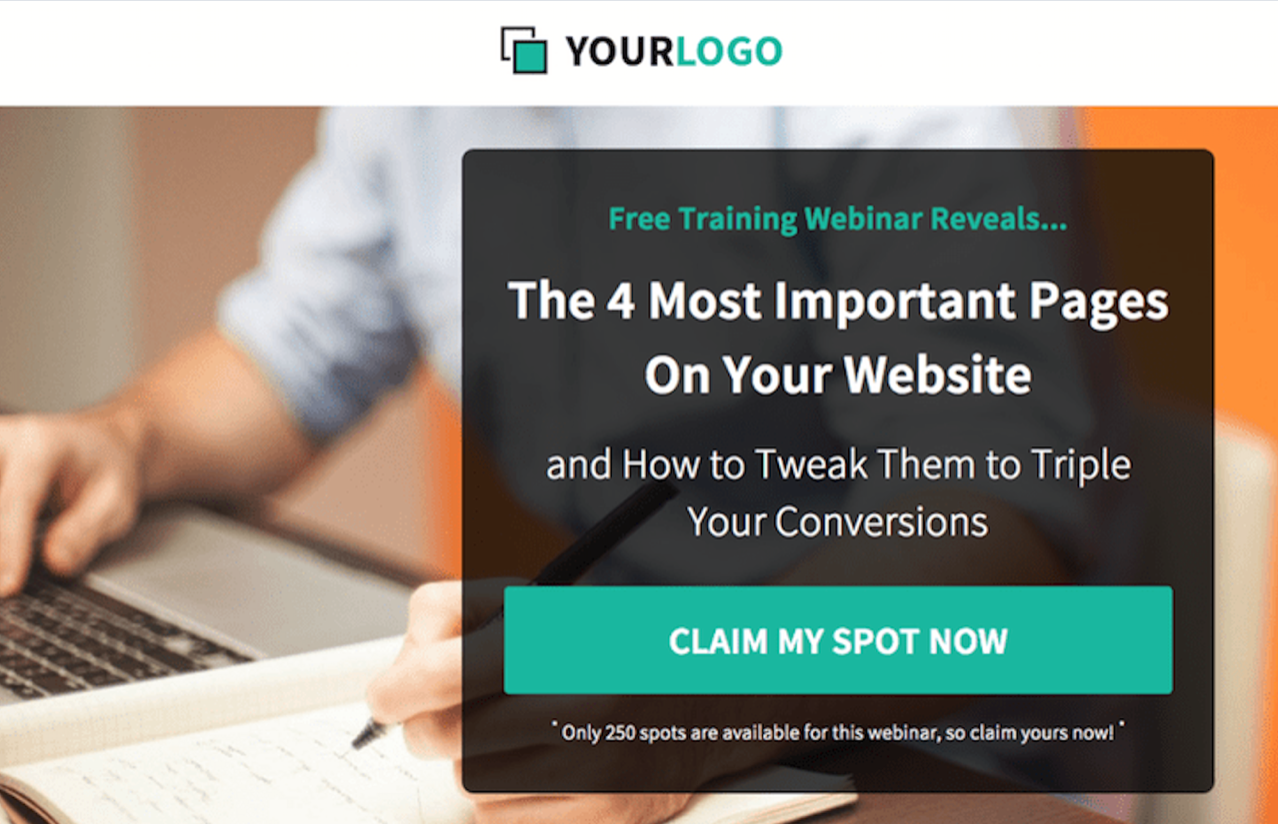 What are the benefits of hosting a webinar?
You have a number of different options depending on how comfortable you are in front of the camera. You can show yourself speaking the whole time, have only slideshows and demonstrations on display or have a combination of the two
You can reach out to a large audience at the same time
You get to prove that you're an expert in your field
It gives people a taste of how you can help them which means they're more likely to remember you in future
By offering people something for free, they're more likely to use you in future because you've already delivered value before they've paid a penny
People usually need to register for these events which means that you can follow up with them after the webinar to find out if there's anything else they would like help with
Interactive features mean that the audience can ask questions which encourages people to engage with you
Now you're sold on the benefits of webinars, it's time to find out which are the best platforms to host them on. While this list is by no means exhaustive, the tools below are well suited to SMEs who have time, cost and ease of use in mind.
YouTube Live
Contrary to popular belief, there's so much more to YouTube than funny cat and 'how to' videos and because it's so easy to use, it's a great place to start if you're new to the world of webinars.
The site offers two options for going live: Stream Now and Events. If you opt for Stream Now, once you've created your channel you will be able to go live instantly. The Events option gives you more control for streaming your live content. For example, you can configure privacy options, enable a backup stream and start time or conduct multiple events simultaneously.
Some of the key features of YouTube Live include:
It automatically detects your stream resolution and optimises it according to the quality of the Internet connection of each viewer
Most people already have a YouTube account which means you have the potential to reach out to a massive audience
There's a stable URL for live video where a dedicated audience can always find your streams
Platforms are automatically set up for audience interaction
There's no viewer limit
Benefit from in-depth analytics buried within the platform dashboards
You can stream from a mobile device
API access lets you either stream from within the platform itself or by third-party client which gives you extra features (for example, Wirecast)
It's free to use
If you're new to YouTube, these handy instructions provide a helpful guide to get you started with streaming.
Google Hangouts
Google Hangouts is a great platform for conducting online meetings. Although it's capped at a maximum of 10 users per call, its live streaming integration with YouTube makes it perfect for conducting webinars with multiple presenters and participants.
Because Hangouts On Air has been integrated with YouTube Live, you can set up your webinar quickly and easily so again, this is another great platform for those who are new to webinars.  You can also use Google Hangouts to conduct an online conference.
It may not be your standard premium webinar platform as you can only invite 10 participants per call but it comes with an impressive list of features for collaborative meetings, presentations and workshops.
Key features include:
The ability to live stream straight to your attached YouTube Channel and/or a website
Can automatically record and publish hangouts to YouTube
Works on all devices and platforms
Send photos, emoji and chat messages during hangout
Screen share options
It's free
This guide will tell you everything you need to know about getting started with Google Hangouts.
Skype for Business
If you don't want to pay for streaming your webinars, the free version of Skype for Business is ideal (although you're limited to 25 participants). Upgrade your account however and you can connect to as many as 250 attendees, with the option to broadcast your stream to 10,000 people.
What attracts many users to this platform is its powerful integration with Office applications. You get a complete integration of apps ranging from PowerPoint, Excel, Word and Outlook to OneNote, Publisher and Access. You can also schedule meetings and start chatting straight away from within apps like PowerPoint and Word.
Some of the key features of Skype for Business include:
Enterprise-grade security
Advanced analytics
Email integration
The ability to manage your own corporate social network using Yammer
Corporate video portal
Team collaboration features
Find out everything you need to know about getting started with Skype for Business here.
GoToWebinar
If you're looking for a platform that offers enterprise features and enables you to cater for a specific clientele, GoToWebinar is a great option. It's a webinar-specific platform with enterprise-level security and features that cater to businesses looking to conduct events for potential and existing clients or investors.
Some of the main features of this platform include:
HD quality video conferencing
You can have up to six presenters at a time
You can conduct practice sessions
Custom branding and email invitations with reminder alerts
Analytics
Archived recordings
You have a free 30-day trial and after that, there are a number of paid packages available
Everything you need to know about getting started with GoToWebinar can be found on their website.
Adobe Connect
Adobe Connect has a number of online conferencing and training solutions, one of them being Adobe Connect Webinar. Through this platform, you can invite participants to join in even if they don't have the app.
Adobe Connect Webinar allows you to stream presentations, conduct polls, coordinate with multiple presenters, get real-time audience feedback and access an engagement dashboard which analyses audience engagement.
Key features of this platform include:
You can have anything from 100 to 1500 participants depending on the package you opt for
You can integrate with a number of CRMs such as SalesForce
Complete mobile collaboration
Rich multi-media options
High-quality audio and video
Analytics and tracking
Archive past webinars
Free trials are available
To find out more about Adobe Connect Webinars, head over to their website.
Webinars are a powerful tool for any organisation and hosting your own event can be a highly effective business development strategy. From attracting new clients and increasing brand awareness to growing your business, you're sure to reap the benefits of webinars in no time.  
After completing her degree in Journalism, Monique began her career at a digital marketing agency. It was here she discovered a passion for online marketing with a particular focus on content creation for the web. Six years ago Monique set up her own copywriting business, Copyworks Group, which specialises in creating content for websites, blogs, newsletters and social media pages.
Read full profile