There's absolutely no denying that email marketing is all the rage. A staggering 269 billion business and consumer emails are in fact sent and received every single day.
While emailing may be an incredibly easy way to reach out to hundreds, even thousands of potential customers, badly timed or poorly written communications are quite simply going to end up in the trash.
How do you make sure that your emails don't result in low open and conversion rates or even total failure? The key is to target your messages to your audience – taking this strategic approach can really help to drive large volumes of business.
In this piece, I'll discuss which of your customers you should be reaching out to, when and how.
Audience type: cold leads
New business development is important for any company and emailing can seem like a less confrontational way of reaching out to new contacts.
Cold emails are however, tricky to get right. You're trying to engage people who may have never even heard of you and you do of course need to be careful you're not breaking the law. Before you begin, educate yourself about the rules on sending out unsolicited emails.
Once you're ready to make a start, the first thing to think about is your subject line. Many people leave this to last but one of the secrets to creating successful email campaigns is to perfect your subject line before anything else.
Your subject line will determine whether your email gets opened or moved straight into the trash folder. Heed this advice for all of your campaigns because as well as ensuring you create attention-grabbing headlines, deciding on your subject line early also helps to create a focus for your email.
Don't be disheartened if perfecting your subject lines requires some trial and error. Humour may be appropriate for one industry but not another and slang and emojis may be appreciated among the younger generation but probably won't go down too well with older audiences for example.
Best practices for writing subject lines:
Keep it short – you have a split second to capture people's attention.
Don't be salesy – write like you're sending an email to someone you actually know.
Personalise your emails – emails are 26% more likely to be opened if they have a customised email subject line. 
Keep it relevant – don't trick people into opening your email by claiming it's about something it isn't. They will never trust you again.
Try asking questions, this may pique people's interest.
Make your prospects feel that by opening your email, they will be gaining something. This may be a discount on your products or services or helpful advice.
Use the Before-After-Bridge (BAB) technique:
Before – Here's your world now
After – This is what the world would be like if you solved this problem
Bridge – Here's how to get there
According to behavioral psychologists, humans are motivated to take action by two things: pleasure and pain. The BAB formula uses this universal trigger which not only grabs the reader's attention, it also compels them to respond.
Start your email by identifying a problem that's relevant to your prospect and then describe how the world would be different if that problem didn't exist. Now that your prospect has a desire for what you're offering, close by highlighting how your product or service can help your reader to get there. Below is a great example of an email which follows the BAB technique.
Tips for sending out cold emails:
Find a reason to connect – maybe you have a mutual acquaintance, you're in a similar industry, you can offer something you think might benefit them.
Keep it short, concise and to the point – remember, this person doesn't know you so they have no reason to give you their time.
Does your email offer value – has your reader gained anything from reading your email?
Ask yourself if you would open, read and respond to your email.
Give a clear call-to-action – ask if they're happy for you to give them a quick call.
Audience type: win-backs
Given the cost of acquiring a new customer, most companies rely on repeat business. In spite of this, many put very little effort into reactivating lapsed customers. So much time and money is focused on increasing website traffic, achieving higher search engine rankings and converting new visitors into leads, that the most simple and effective method of increasing revenue is ignored.
Repeat customers have a 60-70% chance of converting and someone that has purchased from you twice, is nine times more likely to convert than a first-time shopper.
This is why win-back emails are absolutely crucial. It's important that you don't ignore this audience – they know you, they've already purchased from you and chances are they trust you, making them a much easier sell.
How to write successful win-back email campaigns:
Use your data to time your emails
If you have this data available to you, pinpoint the exact moments customers tend to become inactive.
If for example, people tend to buy from you in the run-up to Christmas and then sales drop off in the New Year, send out emails in January. Offer discounts, free gifts if they spend a certain amount, free delivery or have a sale – anything to encourage people to buy from you at a time they typically wouldn't think to do so.
Subject lines
As mentioned earlier, personalised subject lines are key. When sending out win-back emails, try the following:
[First Name], we want you back
We miss you [First Name]
Where have you been [First Name]
Did you forget about your [Company Name] account?
Give people a reason to come back
Give people an incentive to come back. Money off and freebies typically work very well but be sure to add a deadline to your offer to create a sense of urgency. Urgency makes potential buyers think differently about the decision they need to make. It helps suspend their natural behaviour, such as procrastination and motivates them to act on impulse.
The example below from Pinkberry does a fantastic job of incorporating all of the points mentioned above.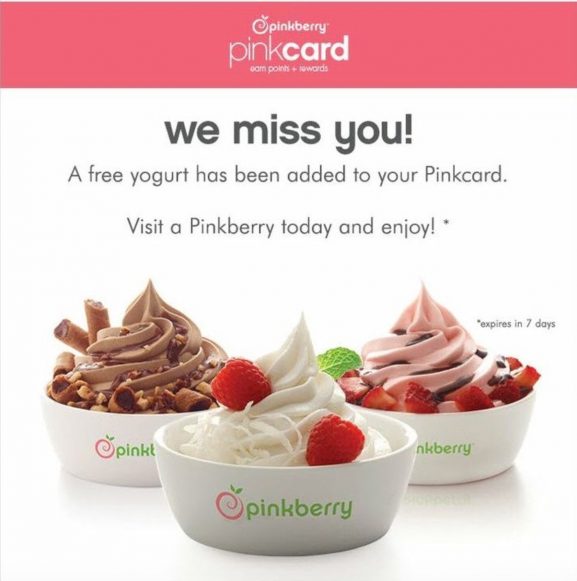 Show them what they're missing
Has a celebrity been spotted in one of your dresses? Is your anti-ageing moisturiser flying off the shelves? Do you have limited stock left of your best-selling product? If you're a serviced-based business, how much money have you saved your customers over the last six months? What great things do your existing customers have to say about you?
Sending out an email reminding people what they're missing out on is another great way to intrigue them into coming back to you.  
Audience type: existing customers
While we certainly don't recommend bombarding your customers with unnecessary emails, keeping in touch with them can be a great way to encourage loyalty and drive sales.
Below are examples of some great emails you can send to existing customers.
The welcome email
Whether someone has just subscribed to your newsletter or made a purchase, show your appreciation with a quick welcome email. Use this time to reinforce what they're going to gain out of receiving your communications or using your services. Don't forget to offer some sort of a promotion – this is a popular and easy way to encourage new customers to take action.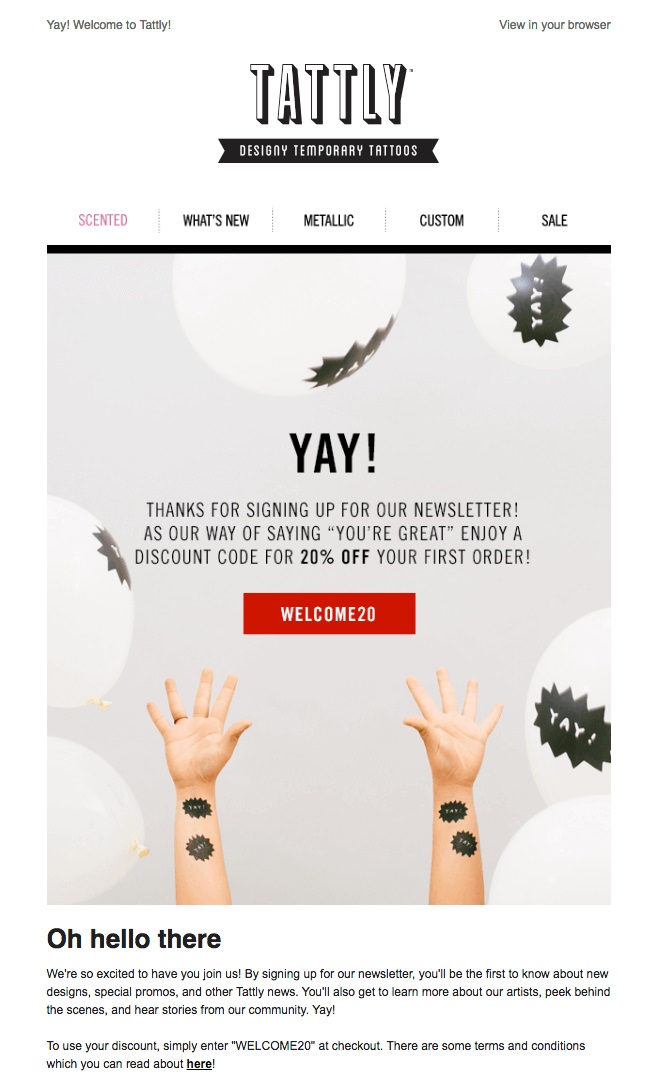 Promotional emails
This is a great way to announce new products, services, webinars, company news and any promotions you're running. Remember to only describe and promote one offer at a time however and always have a clear call-to-action. Try not to run these promotions too often either. Aside from annoying people with all your emails, if everyone knows you have offers on all the time, they're less inclined to act because they know another one will follow.
Newsletters
Newsletters are a fantastic way of staying in touch with existing customers. By providing content that's valuable to your readers, this helps to create trust and even if they don't require your product or service right now, regular communication ensures they will remember you when they do. If you're new to this type of email, here are some tips for producing great newsletters.
Remember, whenever you send an email to your customers, include social sharing buttons. Emails that include them have a 158% higher click through rate (CTR) than those which don't. 
Birthday emails
One of the best ways to retain customers and help them feel special is to make your relationship personal. Studies show that opening rates for anniversary campaigns are in fact nearly three times as high as standard bulk emails.
If you know when it's someone's birthday for example, take this opportunity to wish them a happy birthday and include an exclusive discount code just for them. People will appreciate that you have remembered their birthday and taken the time to wish them a great day which means they're more likely to make use of the discount code.
Email platforms
Now you know what type of emails to send and who to send them to, how do you create them? There are a number of great platforms out there which allow you to import your own template or use one that has been created for you. Some of my favourites include:
In order to measure the success of your email campaigns, don't forget to look at your analytics. Most platforms have in-depth reporting tools which will let you know how many people opened your email, which links were clicked and who unsubscribed. Google Analytics is also helpful because you will be able to see exactly how many people visited your website as a direct result of your email and crucially, who went on to convert as a result of it.
After completing her degree in Journalism, Monique began her career at a digital marketing agency. It was here she discovered a passion for online marketing with a particular focus on content creation for the web. Six years ago Monique set up her own copywriting business, Copyworks Group, which specialises in creating content for websites, blogs, newsletters and social media pages.
Read full profile