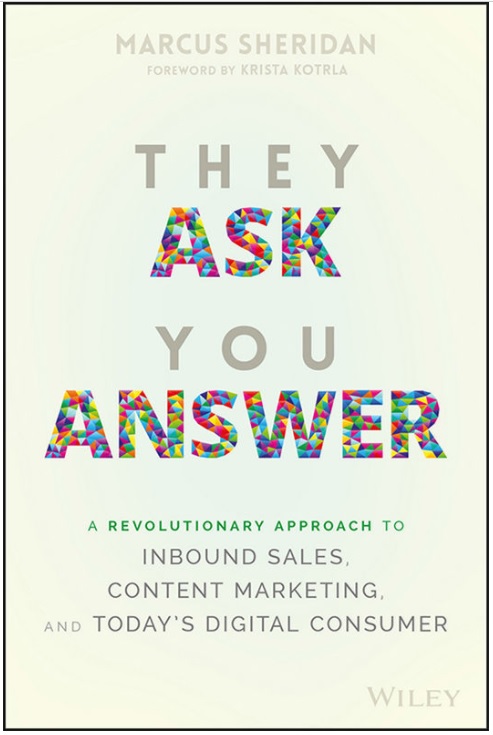 Marcus Sheridan's content marketing book failed so badly at its claims of being revolutionary, that it paradoxically succeeded in reproducing and clarifying a simplistic idea. The premise behind Sheridan's 'They Ask, You Answer: A Revolutionary Approach to Inbound Sales, Content Marketing, and Today's Digital Consumer' is that all content should answer questions, and thus fulfil the needs of customers. It's an incredibly easy read, I read it in about an hour, and unfortunately, the proclamation that this book will offer revolutionary insights isn't accurate. However, what this book did do was to repurpose a commonly used practice and use this as the focal point for content marketing strategy, as the foundational core to which all marketing content should be magnetically drawn back to.
This ideal of meeting customers' needs being at the forefront of marketing strategy is actually useful for companies to utilise in practice. With access to the internet, finding questions to answer has become easier than ever before, so crafting content that serves viewers needs should be a primary consideration. Honest communication is becoming more valued as viewers grow more discerning in what they choose to see online.
The idea of repurposing an idea in it's most simplistic form is marketing itself, as has been shown by advertising campaigns. An example that comes to mind is Snickers' brilliant 'You're Not You When You're Hungry' slogan and subsequent ads. There was nothing new or unique about this concept, in actuality the shared experience of mood change when hungry has nothing to do with the product, but it's relatability made it distinctly identifiable. Sheridan does the same thing here, streamlining a concept that is already widely known. However, to what extent marketers actually implement the theory is thrown into question, and this is ultimately what adds value to 'They Ask, You Answer.' In the complex and multitudinous discourses on marketing, basic principles can be easily lost.
Sheridan's prolonged, slightly wearisome, repetitious piece, although tediously drawn-out, reinforces his commitment to a verifiable concept. Delivering the opposite of its claims is what makes this book successful and unsuccessful. The promise of a unique train of thought pertaining to content marketing teases readers through a lengthy theory that could have been reduced to at least half of the book. Yet, the underlying substance of searching for and fulfilling customers' needs is essential to content marketing, and is both reliable and practicable.
Rosie is a qualified Journalist, NCTJ certified, and is currently an MSt student in Literature and Arts at Oxford University. Having worked in editing, communications, and brand strategy in agencies in Seoul and London, she is passionate about producing intelligent writing with practical and creative value. Previously a Content Editor and Writer at the UK Domain.
Read full profile