For small businesses looking to build a profile and customer base online, building an online presence through your own website has to be the primary goal. However, it can take time to do this, and it's important to ensure that you do all you can to keep the sales coming in.
For this reason, established marketplaces like Amazon and eBay are worth considering, as they offer fast access to millions of potential customers, and a useful extra revenue stream.
The numbers are huge. Amazon, depending on the source you choose, has more than 300 million active users (those with Amazon accounts) while eBay's users number around 170 million.
For a small business which is relatively new online, exposure to new customers can be hard to achieve. E-commerce is now more mature than it was ten years ago, and it's now harder to compete on the search engines than it used to be.
For this reason, selling on Amazon or eBay (or both) can be a great way to generate sales with access to this market. These channels (and other marketplaces) can help you to establish your business and drive revenue while still working on your own website.
However, it's important to consider whether eBay and Amazon are the right fit for your product and brand, as well as the pros and cons of selling on each marketplace.
Selling on eBay
Pros
1. Access to 170m potential customers.
The potential to reach a huge audience with an eBay shop is the main attraction. With the right product it can provide an excellent income stream to complement other channels.
2. Branding
eBay offers multiple opportunities to create a branded presence. From creating an eBay store and adding your company logo, to printed materials like thank you cards and packaging, you can start to build your brand on eBay.
3. Seller and buyer protections
Protections are provided for buyers and sellers, which can ease any concerns buyers may have about purchases.
4. Feedback features
The feedback system on eBay allows the best sellers to build their reputation and further improve trust with potential shoppers.
5. New customer acquisition
Customers acquired via eBay can be converted into regular customers through your preferred channels. Great customer service and fulfilment can help here, as well as smart branding.
6. Ease of use
Product listing can be relatively simple, especially if you can use EAN numbers. There are also plenty of tools to help to list multiple products.
7. Global reach
You can sell anywhere in the world once you set up a store.
8. User experience and design is taken care of
Shoppers are familiar with eBay, the way product search and the payment process works, so this can lead to smoother transactions for shoppers.
Cons
1. Seller fees can eat into margins
In highly commoditised, low-margin categories, the numbers may just not add up. It's therefore important to consider your margins and whether you can make a profit through eBay.
2. Low prices
This isn't necessarily the case, but if multiple sellers are stocking the same product, this can drive prices down. eBay is often a destination for bargain hunters, and they may easily find the same product at a lower price elsewhere on the site.
3. Time
Selling on eBay takes time which you could be spending building your own website and other online channels. Listing items, packing and sending orders out, or answering questions from buyers all take time.
4. Lack of customer loyalty
Customers are likely to be more loyal to eBay than your brand, which means it's harder to retain customers than through your own platforms.
5. Reliance on PayPal
Most purchases on eBay go through PayPal, which means you are reliant on it for much of your revenue from the site. This means paying between 2.5% and 3% per transaction, as well as complying with PayPal's conditions.
Selling on Amazon
Pros
1. Exposure to the customer base of the world's biggest e-commerce site
It's a huge marketplace, and it's where many consumers start out when they want to buy online.
2. Visibility on many product pages
Amazon will show alternative sellers on its product pages, even when it stocks the item itself. This provides an opportunity to compete on the most popular products.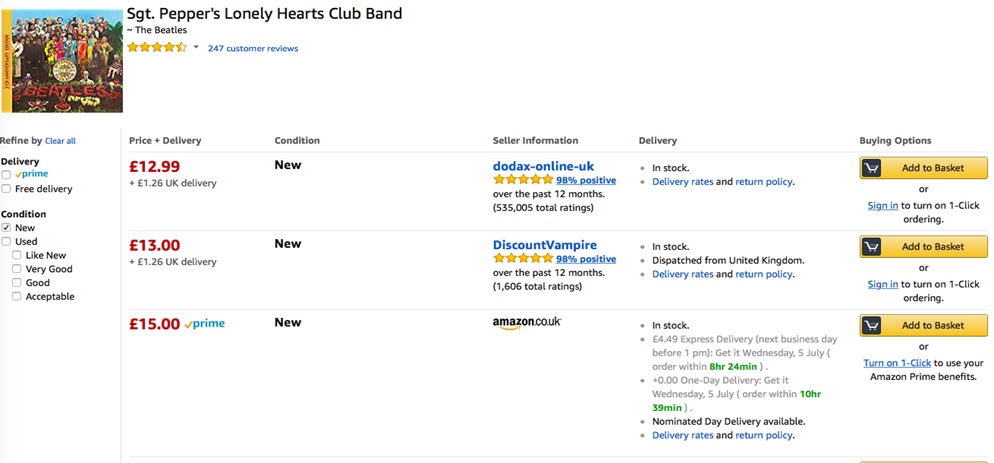 3. Ease of listing
Amazon has its own catalogue of products, so listing items is easy. The product page template is already there, so it's a relatively simple process.
4. Guarantees
Amazon guarantees transactions through its marketplace so shoppers can buy with confidence.
5. Credibility and trust
Amazon is well known and trusted, so customers are more than happy to purchase on the site. Essentially, sellers can 'borrow' this credibility from Amazon.
6. Excellent user experience
Amazon has worked hard on the user experience, conducting millions of tests and experiments over the years to optimise its conversions.
Sellers can take advantage of this experience and design without the work involved. In addition, customers are familiar with the site – they know how to search and browse, they know how checkout works.
7. Customer habits
Amazon is the first destination for many shoppers looking for products. Indeed, 55% of product searches take place on Amazon, more than Google.
8. Delivery by Amazon
Sellers can choose to have Amazon deliver their goods, saving a lot of time and effort, and providing customers with the retailer's excellent delivery services.
Cons
1. Fees
It costs money to use Amazon's marketplace, from roughly 75p per sale up to 25% depending on the level of marketplace access. Sellers need to weigh up the benefits of access to the market against the reduced profit margins.
2. Lack of control over branding
There aren't many branding options on Amazon, as the only aspect sellers have control of is products images and descriptions. This means it's very hard to strengthen your brand using the site.
3. Lots of competition
It's a massive market, but you're competing with thousands of other sellers.
4. Can't capture email addresses
While on your own site you can create an email newsletter or email customers post-purchase, Amazon doesn't allow you to capture buyer's email address. This is another aspect which limits your ability to build relationships with customers.
5. Lack of customer loyalty
Customers are loyal to Amazon, not your brand. In the main, they're only interested in the right product at the right price for them.
In summary
For businesses starting to sell online, using the Amazon or eBay marketplaces can be a useful first step. It allows people to test the market for their products, and can be done with very little initial investment.
It can also be a useful additional revenue stream while you are building up your own e-commerce site. Building up a customer base, improving search visibility and marketing in general takes time. Marketplaces can be a useful stepping stone in this respect.
However, to really build your brand, and have control over all aspects of marketing and sales, nothing beats having your own website. It also means that no-one else need take a cut from your sales so you can maximise your online revenues.
It's important to weigh up the pros and cons of sites like Amazon and eBay, and consider whether they constitute a useful extra income stream, or whether the effort required and reduced margins detract from your overall business aims.
Graham Charlton is Editor in Chief at behavioural marketing company SaleCycle. He has previously worked for Econsultancy and Search Engine Watch, and has written several best practice guides on e-commerce and digital marketing. Follow him on Twitter
Read full profile