Stopcocks (www.stopcocks.uk) is a national plumbing company dedicated to supporting women in the industry and ensuring customers receive the best service.
Hattie Hasan started Stopcocks in 1990 after training as a plumber but struggling to get employment as a female in a traditionally male industry. The only way to avoid giving up on her career was to employ herself, which she did so successfully that the company now helps female plumbers become self-employed and visible in the industry.
Growing into a national franchise
Soon after launching Stopcocks, Hattie began to receive emails from other women finding it difficult to secure positions in the industry or feeling anxious about becoming a plumber. In 2006 she was invited to attend a meeting of 250 global entrepreneurs to speak about her company. It was here that Hattie committed to creating a business that would address the global water situation with an army of women plumbers.
From then on, the business became more proactive in reaching women in the plumbing industry through newsletters, social media and the website. In 2012 Stopcocks became a national company, bringing other women plumbers under its wing.
According to Mica May, Development & Marketing Director at Stopcocks, "We made many mistakes, cried and leaked but stuck with the commitment all this time". In March, Stopcocks launched as the only national franchise of women plumbers in the world; an incredible achievement.
Building the army
Alongside the website, Stopcocks regularly reaches out to build their army of women plumbers and customer base through online promotion. This includes activity on social media platforms, in particular Facebook and Twitter, where the company regularly shares articles and videos to promote women plumbers and where they also receive excellent reviews.
"I see social media as a party, while the website is more like inviting someone into your house" Mica explains. Stopcocks uses the website to tell other businesses and customers what they stand for in a more direct style.
The website clearly carries the brand values and explains why Stopcocks exists in a detailed 'About' section, with a blog that shares company updates, opinions and inspirational stories. Visitors can also search for a Stopcocks plumber in their area, with each plumber having a profile that showcases feedback, qualifications and services available.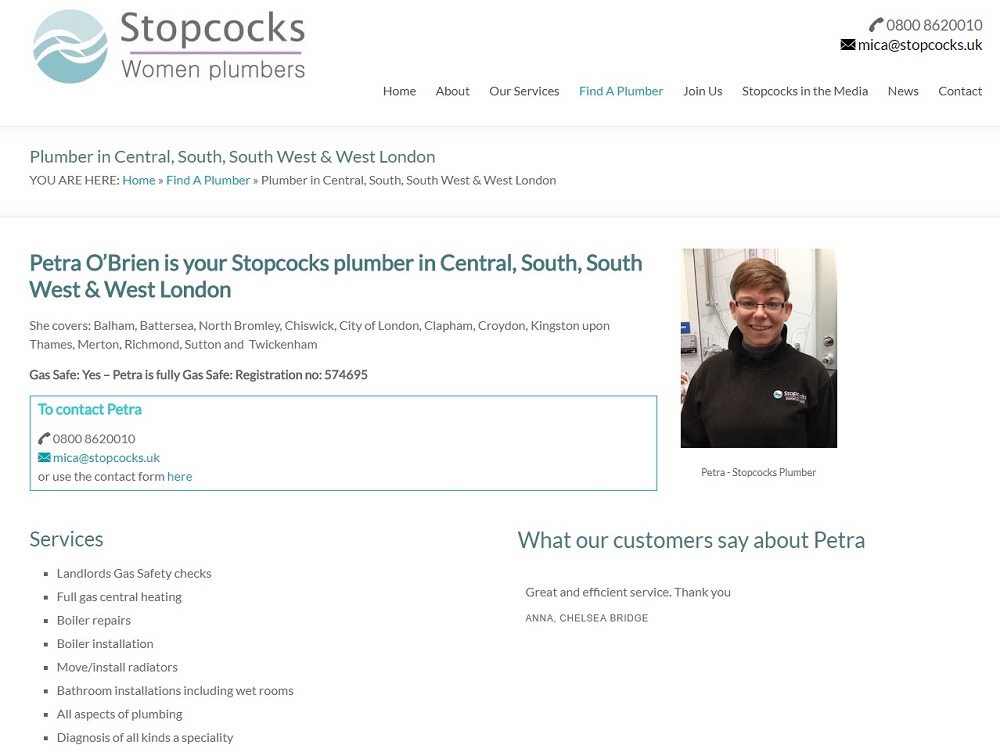 Mica explains that for the franchise area of the business, people keep returning to read more information while they make a decision. She says, "the website is perfect for this. It allows people to really get to know us on a deeper level as they keep going back to read more".
Social media has also played a big part in the growth of the business and has helped get the Stopcocks name in front of customers and other women in the industry. "We are constantly working at maintaining our profile on social media," says Mica.
Social media only takes about half an hour a day. It's so low in how much it demands of you, financially and in time, but the reward is like nothing else. It's amazing. 
To support the business' uniqueness and leadership in the field, Stopcocks chose a .uk domain. Mica explains: "Hattie has always been ahead of her time, and this is what the .uk domain says. We like the way it looks, the way it's short and snappy, and it lets people know we're a UK business and puts us in a strong position of trust."
Hosting the first national event for women plumbers
Soon after the launch of the franchise, the business was contacted by top brands in the plumbing industry, such as Polypipe, Vaillant Boilers, HPM Magazine (the UK's leading magazine in the heating and plumbing sector) and John Lewis' new recommended trader service Home Solutions. They all wanted to collaborate with Stopcocks.
As Mica explains, "we were being recognised as the leader in reaching women in the industry, it was Hattie, our founder's brainwave that we could work with all of these brands at the same time to achieve what we've always wanted for Stopcocks: to bring women plumbers together."
Hence the idea of running an event was born, in collaboration with the high quality and well recognised brands in the industry. The event, Women Installers Together Conference, was promoted online, with the team at Stopcocks ramping up their blogging and using social media in partnership with the brands to promote the event and reach a targeted audience. Numerous plumbing magazines also shared articles about the event both in online and print versions. 
This involved sharing articles from the media partner, Heating and Plumbing Monthly Magazine, across Facebook and Twitter, as well as directly reaching out to industry supporters to encourage them to share the content. They also regularly posted about the event across social media, sharing spotlight sponsors, speaker information, stories about Stopcock plumbers and founder Hattie, and gifs of kittens to encourage women plumbers to attend the event!
Mica explains how they would tag the sponsors in the social posts to allow them to share the content with their followers, with Stopcocks sharing their relevant social posts in return. "There was a lot of give and take, you have to assume people don't see most of your content so we weren't worried about repeating it across social media."
The event hashtag #WITConference was trending on Instagram on the event day as attendees shared images from the conference. This has inspired the Stopcocks team to investigate setting up an Instagram profile for the brand in the future. The event took place in September 2017 and attracted the biggest gathering of women plumbers internationally.  
The event wouldn't have been possible at all without social media, because the reach is so substantial without having to pay an absolute fortune
When asked to share some advice with other small businesses, Mica stresses: "Get a .uk domain if nothing else. It's not a big cost if you're new and just starting out, and combining your .uk website with social media will help you reach customers."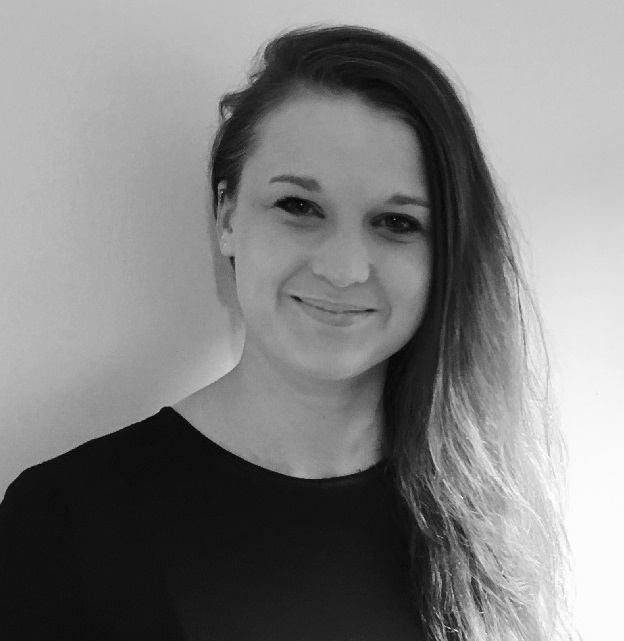 Zoe works as a Content Marketing Executive at the UK Domain. Previously working in advertising and the sporting industry, Zoe has over four years experience in marketing.
Read full profile