It doesn't matter how big or small your business is; when it comes to recruitment, you want to know you're attracting the very best candidates. One way of making sure your job openings are seen by as many potential applicants as possible is to be creative about how you advertise, and today we're looking at some of the ingenious ways brands have found to do this.
Written in code
Social media publisher Woto drew attention when they created a job advert written entirely in code (that's computer programming language, not a Bletchley Park-style puzzle). Designed to attract brainy developers, this was a creative yet low-budget way to ensure that applicants knew their stuff. Not only that, but the job advert itself attracted media attention, getting the company noticed by an even wider pool of potential applicants – and perhaps even potential clients.
Career instructions
Thinking about your products could yield some inspiration for creative ways to advertise jobs, as was the case when IKEA wanted to widen its presence in Australia. We all know what IKEA instruction booklets look like, and the company used the same format to create "assemble your future" job advert leaflets to include with their famous flat-packed products, ready to be found by customers when they got home with their purchases.
The great thing about this campaign – which you can find out more about in this video – is that it reached lots of people who were already loyal IKEA customers, and who therefore already identified with the brand. It cost IKEA nothing in online media spend or postage, and, being printed, it was easy to pass on to others who might be interested in a job with the furniture giant. The result: 4,285 quality applications and "280 careers assembled".
Use Instagram
If the people who identify with your brand are big Instagram users, why not use this platform to reach potential job applicants? There are so many creative ways you can use Instagram to advertise for jobs, from setting followers a puzzle to complete to simply posting an image that plays on something you're known for (see Starbucks' 'freshly brewed jobs'). You don't have to have a big budget for this; this short video, for instance, accompanied a post about jobs being advertised at a bakery.
Create a fun video
Video remains a highly effective way of reaching large audiences thanks to the enduring popularity of sites like YouTube and Vimeo, and it's a platform you can utilise no matter how big or small your budget. Of course, if you can throw a bit of budget and hire a professional video company you'll get sleeker results.
Bamboo HR created this recruitment video showcasing their commitment to work/life balance, and garnered over 220,000 views in the process. It painted a picture of what it would be like to work in the company – a great way to attract applicants.
Humour can be another good tactic, as in this fun recruitment video from Hillsboro Police, which shows members of the police force and the local community in a movie-style police response scenario, along with entertaining segments explaining life working as a police officer. The video has had over 180,000 views, showing that a bit of creativity goes a long way. Even injecting some humour into how you promote job openings can be a great way to grab attention as with this example of a LinkedIn post: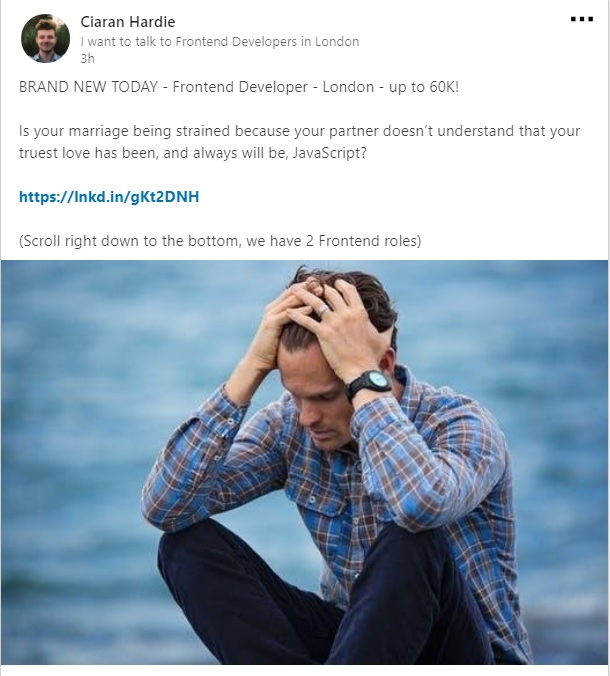 These great examples show that you don't always need a big budget to be creative with how you attract potential job candidates. Recruitment is a competitive sector, so thinking outside the box can make all the difference both in widening the pool of potential candidates and in attracting the best applicants. And you never know, your creativity could even drum up some extra publicity for your business as a whole. It's a win-win situation.
A collection of articles written collaboratively by members of the UK Domain Team.
Read full profile