An online booking system is a piece of software which allows a potential customer to book and /or pay for an activity or service through your website or mobile app.
Customers are increasingly preferring to book online, so many businesses are choosing to offer online options as an alternative to phone or face to face bookings. 
They can be faster and easier to manage and, unlike face to face or telephone, online booking systems allow businesses to be available for bookings around the clock, offering more convenience to customers.
Offline businesses are increasingly driving more of their business through online channels; websites, Google listings and social media profiles, and online booking offers a way to bridge the gap between online and offline.
In this article I'll look at some of the benefits of using online booking systems, the key features businesses should look for when choosing a platform, and I'll list a few popular booking systems.
Why use an online booking system?
There are several ways businesses can benefit from automated, online booking systems:
Appealing to customer booking preferences. Customers increasingly want the option of booking online, as shown by a survey by getapp. The survey found that online booking was the preferred option for 70% of respondents.

They save staff and customers time. Online booking saves customers the effort of calling to book appointments, which makes it easier and more convenient for them. From a business perspective, staff are saved the time they would otherwise spend receiving calls and booking appointments.
They can lead to fewer no-shows. When customers book online, they can be automatically reminded via email or text, or customers can be asked to confirm appointments, meaning they're less likely to forget. Some systems can also check if users have double-booked.
Appointments can be booked 24/7. Booking systems can be used by customers even when you're closed or too busy to answer the phone. This means less potential business is lost.
Key features of online booking systems
Ease of use. Booking systems need to be user-friendly, for businesses and customers. It should make the booking process as simple and easy as possible for customers. This means intuitive navigation, clear steps, and clear information.
From a business perspective, systems should be easy to manage so business owners can view upcoming appointments and see key data which helps them to manage staff time.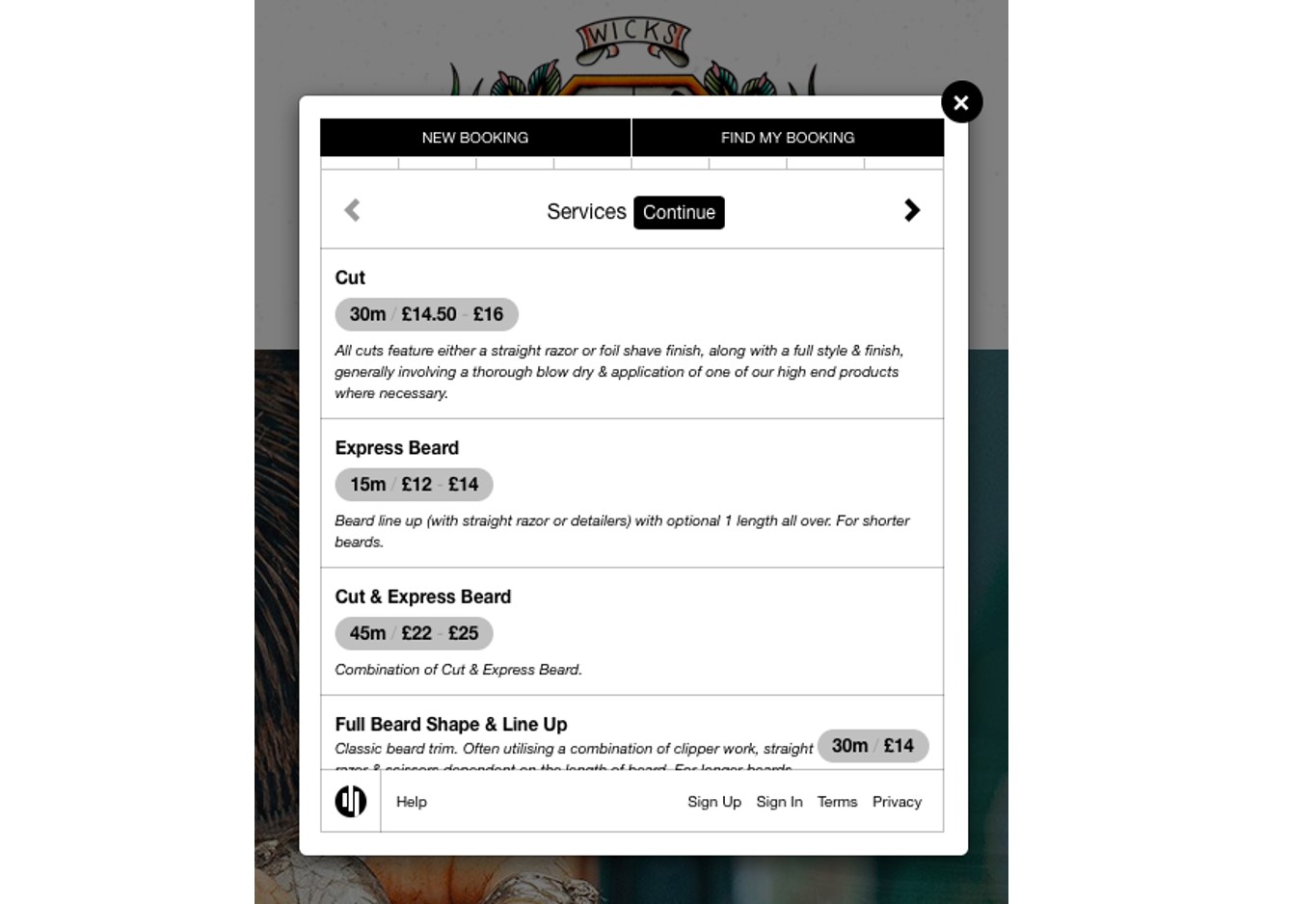 The ability to accept payments. Not all businesses will require this, but payments should be able to be processed securely and smoothly for those that do.
Mobile booking. According to BookedIn, 76% of bookings take place via mobile, 23% desktop and 3% tablet. This means booking systems have to work for mobile users.
Email and SMS reminders. A booking system that offers both email and SMS reminders can offer customers a useful reminder to reduce the risk of missed appointments.
Managing appointments. Customers need enough detail to make an informed decision on the booking, meaning available times should be obvious, as well as other key details like length of appointment and costs.
Data and analytics. The system should be able to collect and analyse data such as booking volumes, popular periods, and sources of bookings. This can help businesses to manage resources and provide key information which can help with marketing.
Booking via social media. The ability to place booking options on social media pages can help to drive more bookings.
Selecting a booking system
First of all, it's important to think about what you need from a booking system. Some of the key features above are essentials but others, like accepting payments, will not apply to many businesses.
Ease of use and mobile optimisation should be a must, and you need to think about how complex it needs to be, which payment methods you want to accept, and more.
It's also important to think about how booking systems will handle increased traffic if you grow, and how effective and efficient the support is. For example, do they have 24/7 customer service?
Here, I'll look at just a few of the available online booking systems, some of the pricing structures, and what online reviewers have been saying about them.
Resurva
Resurva is an online booking system which I've seen used by a number of barbershops. Features include a weekly calendar, text and email reminders, analytics, and the ability to manage bookings across multiple business locations. 
Pricing depends on business size and booking volumes. Its basic package is $20 per month for small businesses, rising to $75 for its top united package, with additional charges for extra locations.
Suitable for: service-driven and schedule-based businesses such as barbershops, photography studios, rental shops, and more.
I could only find two reviews of Resurva, one very positive, the other negative.
Bookeo
Bookeo claims to have processed more than 36m appointments since 2010, with more than 36,000 users. It offers booking software to suit a range of businesses, including basic appointments, booking for courses, and for travel and activities.
One potentially useful feature is the ability to embed the booking widget into Facebook pages.
Pricing varies according to the types of booking. Basic appointments start at $15 per month, $40 for scheduling classes and courses, and $40 for tours and activities. Prices then increase depending on numbers of bookings and staff logins.
Suitable for: basic appointments for things like children's birthday parties, scheduling of things like language or cooking courses, and for tour activities such as guide tours.
There are a few complaints online, but Bookeo has positive reviews overall.
10to8
10to8 provides booking software which enables businesses to schedule, cancel and reschedule appointments as needed. 10to8 can integrate with Gmail, Outlook, iCal and other software, while booking buttons and forms can be embedded into websites.
There's a free version of the software for up to 100 appointments per month, then pricing starts at £9.60 all the way up to £40. Paying more increases the numbers of appointments, staff logins, and greater levels of support.
Suitable for: a range of business types, including plumbers and tradespeople.
There are fewer reviews of this product, but those that I could find are positive.
OpenTable
OpenTable is a booking system for the restaurant industry, used by more than 47,000 restaurants. It's simple to use, with an easy interface for customers.
For restaurants, it allows them to take bookings, manage tables, and also provides reminders to customers.
OpenTable doesn't show its pricing structure, so details are only available on request.
The system is generally well-reviewed, with a few complaints around the ease of use for businesses.
BookSteam
BookSteam is aimed at a variety of business sizes, allowing customers to book online and businesses to manage bookings behind the scenes.
It provides SMS and email reminders and can allow businesses to take payment at the time of booking.
Pricing starts at $19.95 per month, rising to $69.95 for larger businesses. The features are the same, the different pricing levels depend on the number of staff that can access the platform.
Reviews are generally positive about BookSteam, with good ratings for ease of use and customer support.
Reservio
Reservio is a cloud-based booking software aimed at various types of SMEs. It offers online and mobile booking, appointment management, and reminders.
The pricing starts at £7 per month, with further options of £14 and £29, which allow you to add more users and various levels of customisation.
It's also been reviewed well by users, who have praised its ease of use.
In summary
There are many more online booking systems available, but this selection should give you an idea of what is out there, the pricing, and some of the features you should expect to find.
While some booking systems are specialised for certain business types (there's a lot of restaurant booking software for example), the majority can be used across a range of business types.
There's a great variety in pricing across the booking systems listed here, which can indicate the kinds of businesses they're targeting with the software.
It's possible that some online booking providers are looking to focus on bigger enterprise clients, and may have less time for smaller businesses. This isn't necessarily the case, but it's something to consider when choosing a provider.
One thing to look for as a small business is the availability of free trials. Several of the systems (Reservio for one) named here offer trials for a month or more. This can be a good way to test the software out without making a commitment and to be able to try a few different options.
There are also lots of providers offering basic versions with limited features, which are more affordable for smaller businesses. Again, this is a good way to see how a booking system can help to drive more business.
The pricing generally works around booking volume, so it's a good idea to think about the numbers of bookings you currently take by telephone or other ways and work around that.
One challenge is the sheer number of available solutions, so it can help to look at reviews online and talk to other businesses like yours to see which software they have used.
Graham Charlton is Editor in Chief at behavioural marketing company SaleCycle. He has previously worked for Econsultancy and Search Engine Watch, and has written several best practice guides on e-commerce and digital marketing. Follow him on Twitter
Read full profile