Fashion retailer H&M recently announced that it would be closing some of its stores, and opening fewer new outlets, thanks to poor sales in the last quarter of 2017.
Q4 revenues fell 4% year on year, and the Swedish retailer will be closing 170 stores in 2018 and opening 390 new ones. This of course means that H&M will still be expanding its physical presence, but it marks a move away from more than a decade of rapid expansion.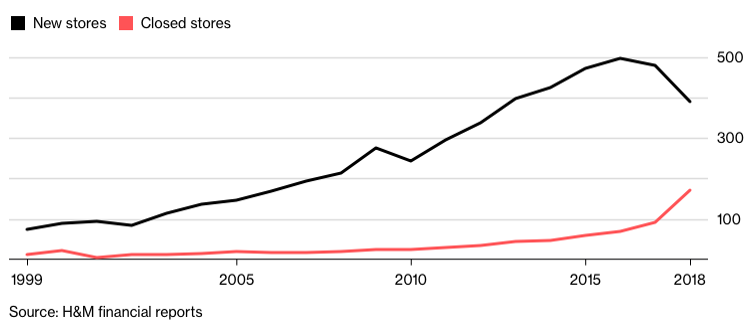 Meanwhile, rival fast-fashion retailer Zara has enjoyed a good year, with profits up 6%, and H&M faces stiff competition from online-only rivals like ASOS and Boohoo.
The reasons for H&M's slowdown are varied, but here I'll look at the retailer's online strategy.
Over the last ten to fifteen years H&M and other fast-fashion brands like Zara have enjoyed great success in the fashion sector thanks to trend-led products, a speedy production process and large store networks. Now, the disruption is happening online, and H&M has been relatively slow to adapt to it.
For now, and for some time to come, physical retail will remain the largest market, but more and more sales are going online, and the trend towards online is unstoppable. Brands like H&M have to improve their online performance to maintain or improve their market share.
Indeed, H&M blames online retails for reduced footfall in stores in its annual report:
"Profit during the year was negatively affected by a weak sales development in the physical stores of the H&M brand. This is mainly due to the ongoing shift in the industry, in which sales are increasingly taking place online but where the group's online share does not yet compensate for the reduced footfall to stores."
According to Euromonitor stats, 14% of all global fashion sales were online last year, with this percentage higher in some markets – almost 19% in the UK and 26% in China for example.
H&M hasn't stated how many of its sales are online, but some estimates put the percentage at 5%, which is much lower than it should be.
This suggests that H&M can do much better online, so where can it improve, and where has it gone wrong in the past?
H&M was slow to sell online
H&M's strategy has been heavily focused on its store outlets, and this is understandable given the success the brand has enjoyed. However, it's arguable that this focus meant that H&M was too slow to see the potential of ecommerce.
H&M only started selling online in 2010, a decade after ASOS appeared. It seems that the retailer was slow to see the opportunity that ecommerce presented, or else thought that its store network was enough to see off online competition.
The sites were poorly designed too, with many usability flaws which made it harder to drive sales from the site. It has improved since, but the H&M site was deeply flawed in the first years after launch.
In addition, this delayed launch online means that, while rivals like ASOS have gained their online offering,  H&M has had less time to learn and improve online. It still has plenty of work to do to match its rivals here.
User experience
Fashion sites have worked hard on usability over the past few years, and many sites offer an excellent user experience, on mobile and desktop.
To be competitive online, H&M needs to match and even beat its rivals for user experience. Mobile is especially important, as H&M's target market of under 25s are heavy mobile users.
H&M's mobile site is usable, but there are a few areas for improvement. For example, the navigation is sometimes confusing.
Here, I've selected 'men' from the homepage, and would expect to see some other navigational options for product categories – shirts, jeans etc. Instead I have this page with no obvious way to find products.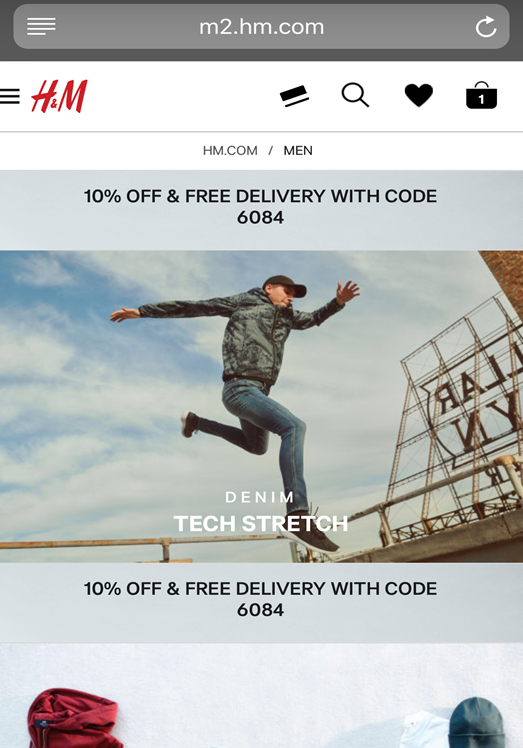 There are other issues too. For example, information on product pages is relatively sparse. For example, clicking on the delivery and payment link brings up this message.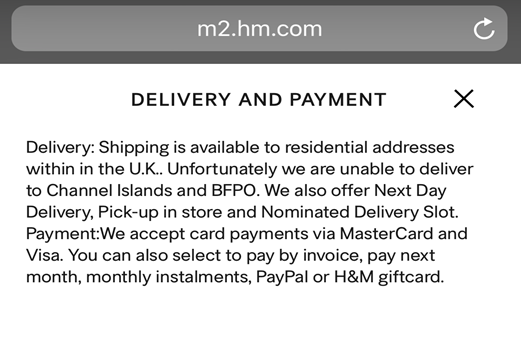 People will be expecting some detail on delivery costs and timescales, as this impacts on their decision to buy or not. This doesn't help at all, and customers have to add items to their basket before finding out costs and options.
SEO
H&M's SEO strategy seems to have been non-existent at times, and it had made some serious errors which have impacted its performance in the search engines.
No online retailer can afford to ignore search traffic. Good search ranking drives cheap traffic to the site, and it's a valuable customer acquisition channel.
The first site it launched used Flash, which meant huge parts of the site couldn't be indexed by Google.
It improved its search performance with a redesigned site after that, but then experienced a huge drop in search rankings in 2015 thanks to changing its site architecture and moving to a new hostname.
The result was that the number of its pages ranking on the first page of Google fell from 829 to 181, which represents a huge loss of search visibility.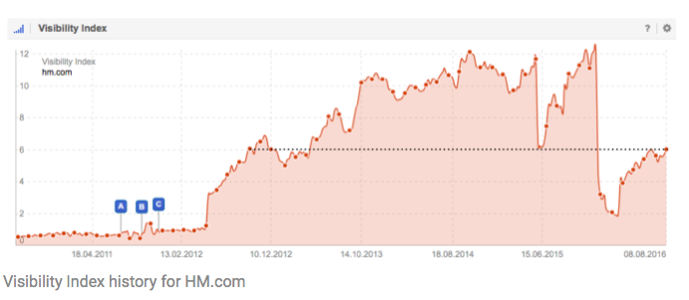 On the chart above, you can see that H&M had recovered from early SEO errors, only to undo much of the hard work by not thinking about SEO when making major changes to the site.
It has picked up since, but this lack of SEO thinking has cost H&M in terms of lost traffic and potential sales over the last eight years.
The challenges of online for low-margin retailers
It's no surprise that some of the biggest high street names that still aren't selling online are low-margin retailers.
For example, Poundland started selling online in 2015, but has since abandoned the idea. Primark is another obvious example, as it clearly feels the costs of online may not allow it to make a profit. It has dipped its toes in the water by selling through ASOS but seems reluctant to sell its entire range online.
The problem in both cases is that they are selling low margin items, and once the costs of delivery and returns are factored in, it can be hard to make a profit. Returns rates in fashion are often the highest of any online retail sector, and the cost of processing these is also a potential problem.
It's not impossible though, and much is about reducing returns costs where possible, and encouraging online shoppers to increase basket values.
It's not impossible for low margin retailers to do well online, but there are challenges.
Delivery costs
This follows on from the previous point, and it's a real conundrum for fashion retailers like H&M. Free delivery helps to drive sales, but impacts on profit margins means retailers need to decide which tactics to adopt here.
H&M has clearly decided that covering costs is more important, and its delivery costs may deter some customers.
It charges £3.99 for standard delivery, which is more than some competitors. ASOS, for example, will deliver free of charge when shoppers spend more than £20, a good way to drive up basket values.
Charging for click and collect from stores may also deter some shoppers, as the vast majority of retailers offer this service free of charge.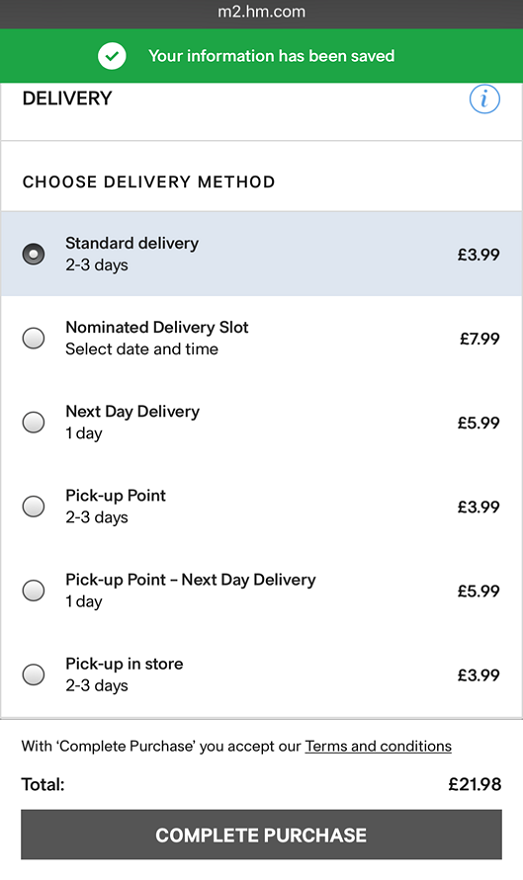 When rival fast-fashion retailers like Zalando are offering free delivery and returns, H&M's delivery offering will lack appeal for many price-conscious shoppers.
In terms of delivery, H&M has massively improved its offering over the past year, with the addition of next day delivery, nominated slots and various pick up options enabling it to appeal to shoppers.
However, the fact that it's been slow to do this means it's lost ground on some online rivals over the last few years.
Multichannel shopping
In theory, with a store network, multichannel retailers like H&M should be able to use this to their advantage. Appealing to customers using their mobiles in store, offering convenient store collection and returns are some of the ways to join up channels.
Like online, H&M has been slow to adopt a multichannel strategy, and this means it's now playing catch up with other fashion retailers in this area.
In its annual report, H&M talks of its plans in this area:
"We are integrating our physical and digital stores to offer our customers a great shopping experience with services ranging from Click and Collect to Scan and Buy and online returns in store."
This is an area where H&M is improving, having added click and collect over the past year, albeit with a charge, as well as in-store returns. It seems to be heading in the right direction, but the delay in adopting features which some rivals have offered for years means it may have lost some potential online sales over the years.                               
In summary
H&M has managed to grow its online sales over the past few years, but so have many online retailers, as more and more people shop online.
The problem for H&M is that it hasn't done enough to ensure that its online (and multichannel) performance is as good as it could have been.
By coming late to ecommerce, making mistakes in terms of user experience and SEO, H&M has failed to achieve its full potential online. How many potential sales have been left due to poor SEO strategy, usability errors and inferior delivery choices?
H&M does seem to have recognised this now, and has taken steps to improve its online performance. Time will tell if this is enough to grow its share of online sales.
Graham Charlton is Editor in Chief at behavioural marketing company SaleCycle. He has previously worked for Econsultancy and Search Engine Watch, and has written several best practice guides on e-commerce and digital marketing. Follow him on Twitter
Read full profile